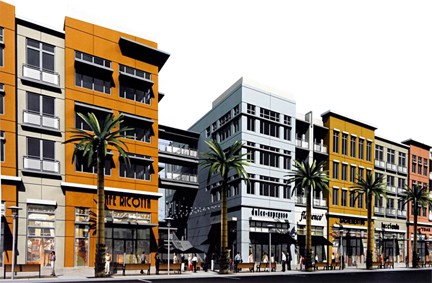 It was a little like Christmas in August for Clearwater leaders when an Orlando-area company confirmed plans for a mixed-use residential development adjacent to the city's Prospect Lake Park.
Topping a wish list of city officials and private sector leaders has been the desire for more downtown residential development. "We need more residential to encourage more retailing and entertainment establishments," Bill Sturdevant, chairman of the Clearwater Downtown Partnership, said a week before the Prospect Lake announcement. "It's absolutely essential for the health of downtown."
Prospect Property Group of Longwood plans to break ground by year's end on 257 apartment units. And, said company Vice President Frank Tetel, "There will be at least 10,000 square feet of retail space." The development, with estimated construction costs of $35 million, will be just southeast of the intersection of Cleveland Street and Prospect Avenue.
Tetel told Freedom that he was encouraged by the strong demand in Clearwater for professionals seeking homes close to the city's core. "And much of that comes from Scientologists," he said.
The project has had to scale several hurdles, including resolving red tape from the federal government over repayment of a grant from the U.S. Department of Housing and Urban Development. Despite those delays, the issues were resolved and Prospect Property moved ahead.
Clearwater's downtown has been making strong progress in recent months. The opening of the Capitol Theatre has had a strong lineup of acts, and attendance has been high.
However, the key ingredients in any downtown are retailing, residential, restaurants and entertainment. Prior to the recession in the late 2000s, there were ambitious plans for several condominium and apartment projects, but the economic downturn stalled or killed some of the developments. Two large condo towers, Water's Edge and Station Square, have been successes, and a third called Skyview is planned across Cleveland Street from the Capitol.
Tetel said, "There is a general trend in Florida, including Clearwater, for people to be in a downtown, close to work and entertainment. Clearwater, close to the beach and many amenities, is a great location."