Tony Ortega: The Backpage.com Pimp
When the world's most prolific and profitable sex-exploitation pimping operation crashed and burned in January 2017, it had the façade of a big business. Backpage.com, as the outfit was called, had 180 employees, a President/CEO, a Chief Financial Officer, a Chief Technology Officer, a Director of Sales and Marketing, and a Director of Operations.
But despite the corporate titles—not to mention a convoluted jigsaw of shell companies that prosecutors claim were dodges for massive money laundering—Backpage was, in the final analysis, a very large and a very profitable conduit for buying and selling flesh—simply stated, it was a pimp. But Backpage went one step further and consciously honed a specialty service in advertising children for sale to pedophiles.
Those executive titles were enumerated in a scathing report early this year by U.S. Senate investigators—the result of a 20-month probe into child sex trafficking.
Backpage went one step further and consciously honed a specialty service in advertising children for sale to pedophiles.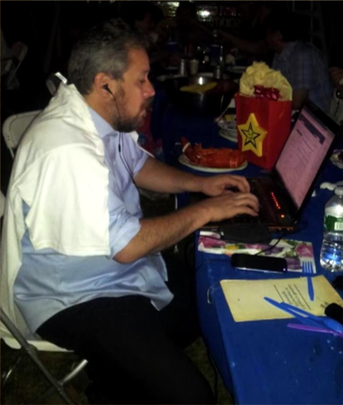 But one title the investigators apparently overlooked among the ranks of the online procurer could have had the moniker: "The Backpage.com Pimp" or "Vice President of Propaganda." That position has been vacant for a few years, but it once existed, held by Tony Ortega as editor-in-chief of the New York Village Voice from 2007 to 2012.
The Voice and five other "alt" publications were acquired in 2005 by the New Times Media group, which had recently started an online classifieds website—Backpage.com. Pimping became the major business model at the tabloid chain, soon known as Village Voice Media. "The people I work for," Ortega would later gloat, "were smart enough to start Backpage.com."
Those people he worked for were Village Voice Media and Backpage potentates James Larkin and Michael Lacey.
"The people I work for were smart enough to start Backpage.com."
What's clear is that Ortega, who was very much in fact the Backpage VP/Propaganda, did a good job for his bosses. In 2011—while Ortega was vigorously defending the site against a burgeoning onslaught of media and official investigations—"Backpage reported that although ads in the adult section represented only 15.5% of total ad volume … the company generated 93.4% of its average weekly paid ad revenue from adult ads," according to a January 2017 report by the U.S. Senate Permanent Subcommittee on Investigations, titled "Backpage.com's Knowing Facilitation of Online Sex Trafficking." The Senate analysis noted that Backpage operated in 97 countries and 943 locations worldwide, and before its demise was valued at more than $500 million.
Ortega defended Backpage even though the website managed to amass an astounding 73 percent of all child trafficking reports, according to the National Center for Missing and Exploited Children. The National Association of Attorneys General concluded that Backpage was a "hub" of "human trafficking, especially the trafficking of minors."
And Tony Ortega's response to the horrors of human sex trafficking—especially involving children? In July 2011—when Village Voice was reaping about $30 million a year from Backpage's prostitution ads—he lashed out against critics in a column, claiming that the epidemic of child prostitution was "bogus information."
"The actual data behind this 'epidemic' is wanting in the extreme," Ortega wrote, following an "investigative" article he oversaw by his staff (all paid in part by revenues from Backpage pimping), who deduced that people combating child prostitution were "fatuous and silly."
"The whole point of Backpage.com is that we aren't involved after two consenting adults find each other through the community bulletin board, which exists solely so that people can freely express themselves," Ortega piously intoned.
In the pages of the Voice, Ortega took to ridiculing critics as attempting to censor adult First Amendment rights; he ran and promoted stories by writers who raised questions about the reliability of statistics on children allegedly forced into sexual slavery. He defended Larkin and Lacey as First Amendment warriors and extolled the operation for taking extreme and responsible steps to prevent child exploitation. He characterized critics as paranoid.
"We've spent millions of dollars putting in place strict policies and monitoring services to make sure that it is only adults finding each other through Backpage.com's adult pages," Ortega insisted in his attacks on critics. When CNN exposed Backpage in a broadcast, Tony Ortega chided: "CNN leads the media's mass paranoia," and criticized the broadcast as a "sensationalistic piece" and "manipulative."
But the critics weren't silenced by Ortega's propaganda. Numerous protesters from the Church of Scientology, the Coalition Against Trafficking in Women and the Frederick Douglass Family Foundation, among others, waved placards and held pink umbrellas outside Ortega's offices, attacking Voice management in 2011 for selling underage sex. A national campaign ensued and state attorneys general and the U.S. Senate joined the fight.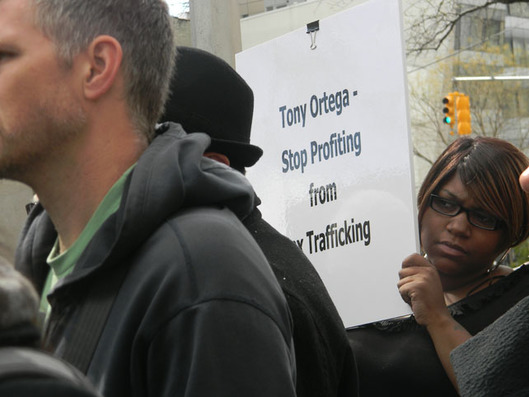 A growing number of prominent voices weighed in on the issue. "Backpage suggests that it is battling censors and prudes," wrote op-ed columnist Nicholas D. Kristof in The New York Times in January 2012. "In fact, what drives it seems to be greed."
What was very apparent: The critics of Backpage, particularly the Church of Scientology, were creating havoc with the Village Voice's sex advertising. Compounding that, Ortega devoted an ever-growing volume and frequency of editorial attention to assailing the Church in the Voice. The Backpage proprietors worried that Ortega's fixation on Scientology was only increasing the Church's resolve to shine a bright public light on the Voice's sex trafficking and child prostitution advertising. That convergence of forces, as well as Ortega's lack of leadership and skill as the Voice editor, eventually got him ejected from the newspaper.
Ortega gave his propaganda the patina of bona fide journalism by evoking a defense of the First Amendment and individual rights. The key to Ortega's deceit—effective at first, but ultimately his undoing—was contained in two simple sentences: "What happens when two adults find each other through Backpage.com? I couldn't tell you."
But as U.S. Senate investigators, prosecutors from the California Attorney General's office, 51 state and territory attorneys general, and hundreds of thousands of citizens concluded: Backpage not only did know what happens when adults barter sex in classified ads, but also when pedophiles purchase children.
Backpage's primary defense—articulated in 2011 by Ortega as he tried to trash real journalists investigating the operation—is that the classified site was merely the "host" of content created by others.
But in the words of the Senate Permanent Subcommittee on Investigations, "The internal company documents conclusively show that Backpage's public defense is a fiction."
Backpage abandoned the role of "host" by meddling with illicit content so as to keep their profits flowing. The Backpage scam was to "edit" words out of ads that indicated criminality, "including child sex trafficking," according to the Senate report. On July 28, 2011—just 22 days after an Ortega column attacking human rights activists and media critics of Backpage—website co-founder Larkin cautioned an underling against telling people that they were scrubbing the sex ads, eliminating words such as "daddy's girl," "Lolita" and "fresh."
"Backpage had good reason to conceal its editing practices," the Senate report stated. "Those practices served to sanitize the content of innumerable advertisements for illegal transactions—even as Backpage represented to the public and the courts that it merely hosted content created by others."
Investigators said their research includes conversations with some of the company's employees: "Backpage moderators told the subcommittee that everyone at the company knew the adult-section ads were for prostitution and that their job was to 'put … lipstick on a pig' by sanitizing them. Backpage also knows that advertisers use its site extensively for child sex trafficking, but the company has often refused to act swiftly in response to complaints about particular underage users."
Abandoning all pretense of ignorance regarding Backpage's modus operandi, Ortega wholeheartedly embraced and advanced Backpage's propaganda that it was an ally in the fight against sex trafficking of minors. Tellingly, Ortega asserted in the Voice that: "we" spent millions of dollars to put together strict policies to safeguard against child sex ads; "we" have security specialists searching for child sex keywords; and "we" are quick to cooperate with law enforcement and the National Center for Missing and Exploited Children when "we" find suspicious ads.
"These are the practices of a corporation intent on profiting from human trafficking—and human misery—and profit they have, at the expense of countless innocent victims."
In reality, Ortega's claims were utter lies—as proven unequivocally during the Senate Subcommittee investigation. "These are not the practices of an 'ally' in the fight against human trafficking," stated U.S. Senator Rob Portman (R-Ohio). "These are the practices of a corporation intent on profiting from human trafficking—and human misery—and profit they have, at the expense of countless innocent victims."
Shockingly, although Ortega vigorously defended Backpage's role in the child sex trade, he apparently has yet to be called as a material witness. How can someone so intimately involved in Backpage's treachery as to repeatedly defend what "we" did, escape not only scrutiny but accountability?
U.S. Senator Claire McCaskill (D-Missouri) summed up Backpage's business strategy of flesh peddling and child trafficking: "That, ladies and gentlemen, is the definition of evil—simply evil."
Owing in part to Ortega's strident defense, Backpage avoided catastrophe until September 26, 2016, when California law enforcement officials filed pimping and conspiracy charges against the online business. In October, authorities raided the website's offices in Dallas and arrested CEO Carl Ferrer. James Larkin and Michael Lacey, the founders of Backpage as well as New Times (later Village Voice) Media, soon joined Ferrer in wearing jailhouse orange jumpsuits and posing for mug shots.
At the time of the arrests, California's then Attorney General Kamala Harris (now a U.S. Senator), described Backpage as "the world's top online brothel."
Backpage's mouthpiece, Ortega, has been replaced by lawyers trying to defend the indefensible. Ortega has not written a word about the fate of his once fiercely guarded protectorate, Backpage, and his mentors, Larkin and Lacey.
Attorney General Kamala Harris described Backpage as "the world's top online brothel."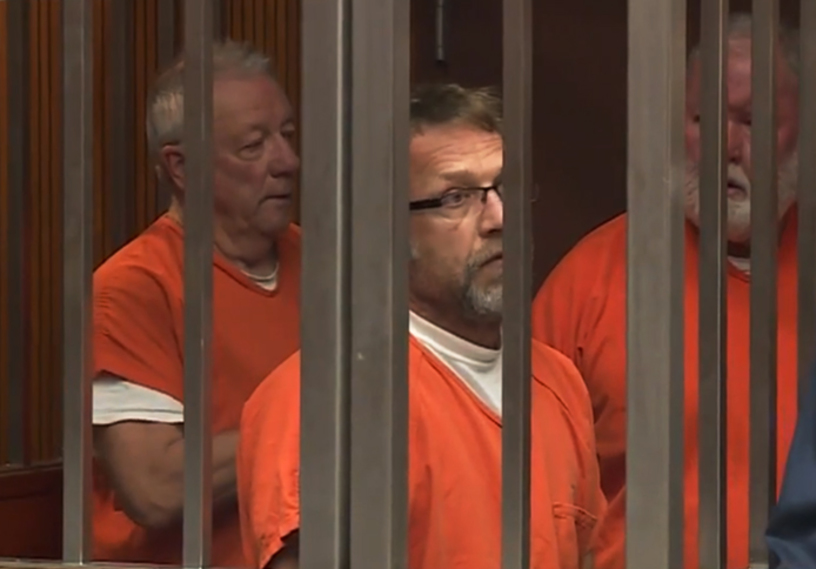 Ortega, in fact, hasn't said anything publicly at all about Backpage since mid-September 2012, when he was fired as Voice editor. About 10 days later, owners Larkin and Lacey sold Village Voice Media to a group of the company's executives.
The proximity of the two events is significant. According to sources within the management of the Village Voice newspapers, the new owners did not want Ortega around. He had become a journalistic pariah due in large part to his pandering for prostitution at Backpage, amid the escalating official and public pressure on the lucrative site. The rest was because he had turned the Voice into a megaphone for his obsession with attacking the Church of Scientology—a prominent activist against human trafficking and Backpage.com—at the expense of the work he was paid to do. The solution was to have Larkin and Lacey drop the axe on Ortega before the ownership sale was inked.
As told to Freedom by a source who worked with Ortega, he was terminated at the Village Voice because the mounting pressure on Backpage.com, and exposure of the Voice for its complicity, were hurting financially. As a result, Lacey, Larkin and Ferrer initiated a major reorganization. The first objective, sources said, was to get rid of Tony Ortega. Moreover, and perhaps most significant, they said Ortega was cut a handsome severance deal that included his silence regarding what he knew about Backpage.com and its operations.
One aspect of Ortega's culpability in Backpage is very clear. He attacked real journalists shining a spotlight on sex trafficking, he created blatantly propagandized articles defending the Backpage operation, and according to sources at the Voice, he participated in business meetings that reviewed Backpage revenue in order to sustain the struggling newspaper's budget under his editorship.
Ortega's culpability in Backpage is very clear. He attacked real journalists shining a spotlight on sex trafficking, he created blatantly propagandized articles defending the Backpage operation…
When the embattled owners of Backpage finally pulled the plug on its commercial sex-trafficking ads on January 9, 2017, they complained that their action was a "direct result of unconstitutional government censorship." No one listened, especially after the Senate investigation exposed Backpage's willing participation in the conspiracy to hide the nature of their child sex trade, along with the criminal charges against Ferrer, Larkin and Lacey. Even Ortega could not have spun the criminality into a First Amendment crusade. These events also revealed that Ortega's attacks on journalists, using the First Amendment to shield Backpage's despicable acts, were not worth the paper they were printed on.
As Senate investigators concluded: "Backpage knows that it facilitates prostitution and child sex trafficking. … Backpage does not deny that its site is used for criminal activity, including the sale of children for sex."
Such conduct is indefensible. Only someone as debased as Mike Lacey, Jim Larkin or Carl Ferrer would try to defend it. That someone is Tony Ortega.