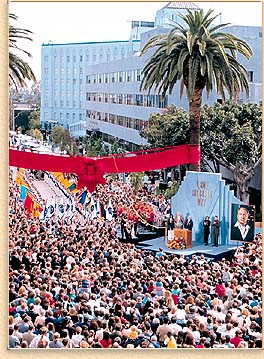 Scientology Founder and Humanitarian Honored with "L. Ron Hubbard Way"

ore than 7,000 came together in Hollywood to commemorate the Grand Opening of the city's most ambitious and visionary beautification project, L. Ron Hubbard Way.

Describing the April 5 celebration as "The historic recognition of a man who, in all he accomplished, was a profound inspiration to people in this city – and to people everywhere," was the President of the Church of Scientology International, Rev. Heber Jentzsch. Sharing the stage with Rev. Jentzsch were John Travolta, Kirstie Alley and officials representing the City Council, Mayor and the Governor of California.

Acknowledging the occasion as a testament to what can be accomplished "when so many citizens and employees of the City of Los Angeles join together in a shoulder-to-shoulder effort," was Mayor Richard Riordan's representative for Hollywood, Chelsea Cochrane. Ms. Cochrane also presented the Mayor's official congratulations, declaring, "The work on this street and its beauty have been inspired by the Church's founder, author and humanitarian L. Ron Hubbard. His humanitarian works are contributing greatly to helping eradicate illiteracy, drug abuse and criminality in the city of Los Angeles."

Rev. Jentzsch also acknowledged all those who had contributed both behind and on the scene, including city employees from the Los Angeles Department of Water and Power, Pacific Bell and the many hundreds of "conscientious staff and city workers" whose work had made the project a success. He extended special thanks to Los Angeles Public Works Commissioner Todd Burnett, Frank Bonhuff of the Public Works city engineers, Department of Water and Power Chief Engineer Willie Gibson, the Public Works Inspector Dennis Ryan and Rick Ramirez and the staff of Pacific Bell.

He further extended his appreciation to the many thousands, "who through their heartfelt actions have exemplified what it means to be a friend of Ron." As a word on those "Friends of Ron," he explained, "this is really a unique organization in that it has no membership requirements. Anyone can join by simply stating – 'I am a friend of Ron.'"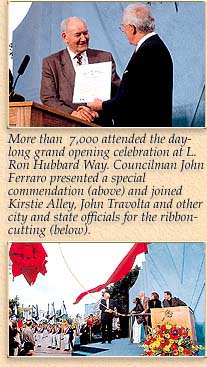 And in the spirit of that statement, City Council president and legislative force behind the project, John Ferraro, stepped to the podium and likewise announced, "Today, I am a friend of Ron."
Councilman Ferraro went on to describe the commemoration as "a very special day in the City of Los Angeles" and representative of the important works
of Scientologists. "Councilman Richard Alatorre and I and many of us on the City Council felt that this had great possibility – working together with the community, working together with this great organization."
The Councilman's sentiments were particularly fitting in light of the fact that, as Rev. Jentzsch pointed out, "it was very much L. Ron Hubbard's dream that the people in this city – Scientologists working hand-in-hand with their neighbors – would create not only a sense of community, but a model for all communities to follow."
And that model is indeed both admirable and elegant. In addition to those specifically acknowledged by Rev. Jentzsch were the many hundreds of neighbors and local volunteers who pitched in to help lay the more than 150,000 bricks – a job normally estimated at eight weeks, but with the dedication of those hundreds, it took only four days.
Rev. Jentzsch was joined in cutting the ribbon to officially open the street by Councilman Ferraro, Ms. Cochrane, Kirstie Alley and John Travolta. The ceremony was followed by a day filled with entertainment which featured a concert by the Church's Golden Era Musicians and renowned Australian recording artist Kate Ceberano who traveled half-way across the globe for the occasion.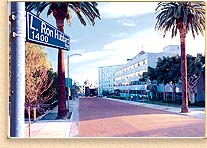 The complex of buildings on L. Ron Hubbard Way fills an entire city block between Sunset Boulevard and Fountain Avenue – both the heart of the Scientology religion in Los Angeles and the home of several different church organizations. The facilities on L. Ron Hubbard Way, purchased by the Church in 1976, serve many thousands of Scientologists living in the greater Los Angeles area and thousands more from across the country who come to L.A. for services from these churches every year.
In addition to the Church of Scientology of Los Angeles, the complex houses the American Saint Hill Organization (ASHO), which teaches the largest single course in the Scientology religion. Known as the Saint Hill Special Briefing Course, it includes hundreds of tape-recorded lectures by L. Ron Hubbard, addressing the human mind and spirit and life itself, and contains the largest, most in-depth body of knowledge on these topics that has ever been available. Itself recently renovated from top to bottom, ASHO occupies more than 70,000 square feet, with space for 2,000 students.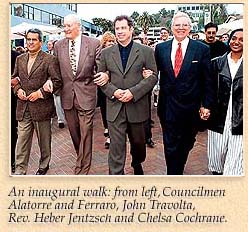 And at the corner of Fountain and L. Ron Hubbard Way is the Church of Scientology Advanced Organization of Los Angeles, where Scientologists from throughout the Western hemisphere avail themselves of some of the highest-level Scientology religious services.
Extensive streetscape improvements, organized and executed by these and other Churches of Scientology in cooperation with the city, included repaving the street itself – the first brick street constructed in Los Angeles since the 1930s open to regular traffic. It is earthquake-proof and designed to last for decades to come. The street was lined with 35 crape myrtle trees, a species which bears spectacular flowers during summer and fall.
In completing the project, Church staff worked closely with officials, engineers and other personnel from the Los Angeles Department of Water and Power, the Department of Public Works, Pacific Bell, Continental Cablevision and many other organizations.
Local residents rolled up their sleeves to participate in what was truly a neighborhood effort. Bill Sturdivant, a building manager, said, "I've never seen anything like it. The teamwork, the perseverance. I mean, I've seen a miracle come right before my eyes. Everyone figured it would take a month longer, but they said they would do it – and they've done it. ... I'm very proud of it. And I'm proud to be on this street and a resident here."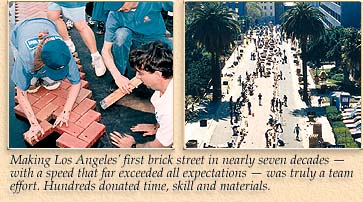 "L. Ron Hubbard Way is a great tribute to a great man,– said Public Works Commissioner Todd Burnett. He described the streetscape project as "a very important story, for not only the city of Los Angeles, but for the rest of the nation – to show what determination, community support and enthusiasm can do to better the quality of life for everyone."
During discussions of the renaming, Council President Ferraro summarized some of the many favorable comments received in response to the proposed change and stated that the Scientologists "have demonstrated commitment to work for the betterment of the community, involving themselves in anti-crime, community clean-up and beautification."
"The Church has been a member of this community for a long time," said Councilman Richard Alatorre. "They are extensively involved in positive work," he added, pointing to the social betterment efforts of Scientologists.
Alatorre cited Scientologists' literacy campaigns and the Narconon drug rehabilitation program – a secular organization which utilizes methods developed by Mr. Hubbard and whose worldwide headquarters are in Los Angeles – as particular reasons for his support of the name change.


The story of the new street began in the fall of 1996, when the Los Angeles City Council passed an ordinance renaming the street, with a flood of positive letters from citizens and local leaders reaching City Hall in support.
Fred Shaw, a local community activist who helps head up the "Boys to Men" project for at-risk youth and who has dedicated himself to teaching inner-city youth to read, was among those who attended the council meetings to support the measure. He described the benefits for inner-city youth of literacy programs utilizing Mr. Hubbard's technology – "rescuing them from a hell that promised only drugs, prison and death."
"When we see the lives of young people restored, when we see the hope back in their eyes ... we think the work of L. Ron Hubbard needs to be recognized," Shaw told the Council.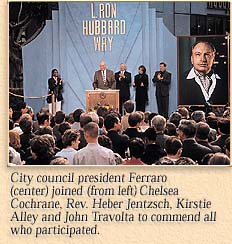 Hollywood Heritage
"Mr. Hubbard's work and writings have helped literally millions of people to lead better lives, to get off drugs and to solve scores of social problems," said Rev. Jentzsch. And throughout his own life and career, he noted, Los Angeles played a pivotal role.
From Mr. Hubbard's arrival in the film capital of the world in May 1937 as a young and remarkably successful writer, to his research into the human mind from offices on Sunset and La Brea where in 1947 he tested Dianetics theories with actors, directors, writers and others in the Hollywood community, to his first lectures on Dianetics – including one at the Shrine Auditorium in 1950 attended by more than 6,000 – and on through the years, Los Angeles was central. And it was from here that the applied religious philosophy he developed has expanded throughout the world.
"This street is now one of L.A.'s most beautiful," said Rev. Jentzsch. "It is an appropriate tribute to a Los Angeles citizen who is respected and admired across the globe."

Visitors are welcome to visit any of the Churches of Scientology located on L. Ron Hubbard Way – two blocks west of Vermont, between Sunset and Fountain.