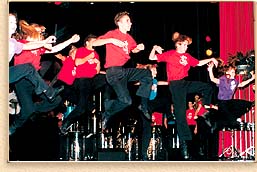 As one official said, the City has "Made a right turn" — and it is because so many are chipping in



hortly after his reelection, Mayor Richard Riordan called for a new spirit of cooperation in building a better city. "Together," he said, "we will continue to make Los Angeles safer. Together we will reform every neighborhood into a striving and thriving community."
In a time of government and corporate downsizing, many are looking to local groups – first and foremost, churches – to bolster community spirit and to face and alleviate problems in society which traditionally are considered solely the domain of government programs.
One group which has been uniquely active in this regard is the Church of Scientology and perhaps no better model can be found than the Church's Celebrity Centre International, in Hollywood.
As Governor Pete Wilson put it, "The Celebrity Centre International is a sterling example of what people can do when they reach out with compassion and care."
Governor Wilson's words were expressed at the organization's gala celebration of its 27th anniversary – an occasion for celebration of the Church and its continuing work to make Hollywood and all of Los Angeles a better place, both through helping and revitalizing artists and through hands-on efforts to aid numerous communities.
Mr. Wilson's message stated, in part: "Whether you were raising funds for the Boy Scouts, the Hollywood Beautification Team, the Hollywood Arts Council, the World Literacy Crusade, the Hollywood PAL [Police Activities League] and Police Support Association; combating the scourge of drug and alcohol abuse and crime through your Narconon1, Drug-Free Marshals and Criminon2 programs; or having the Centre's talented artists paint professional murals in buildings throughout the community – your members have been making a positive and lasting difference in countless lives for nearly three decades."
His praise had special meaning to many of those present – those who had benefited from Celebrity Centre's services–for this Church, unique among the hundreds of churches and missions which exist around the world, has as its primary mission the rehabilitation of artistic creativity.
It can truly be said that a civilization is only as advanced as its goals and aspirations, and those are envisioned by artists. Thus it is clear that when one speaks of forwarding artistic creativity, he is speaking of rehabilitating the source of all creativeness, the human spirit.
Personal Contributions
The more than 2,000 guests at the event, among them a host of entertainment industry personalities, enjoyed musical performances by such legendary artists as Chick Corea, Isaac Hayes, Mark Isham and Edgar Winter.

Many of the celebrities on hand, including Kirstie Alley, Anne Archer, Kelly Preston and John Travolta, are known for their personal contributions to bettering conditions in society.
Travolta, for example, supports the Drug-Free Marshals, an international grassroots program which encourages youth to live drug-free. Kirstie Alley has served for nearly 10 years as spokesperson for the Narconon drug rehabilitation program that has freed tens of thousands of addicts from the shackles of drugs. Anne Archer, Isaac Hayes, Kelly Preston and John Travolta support the World Literacy Crusade, a program that enables gang members and youth at risk in America's inner cities to overcome the barriers to learning and lead worthwhile and productive lives, free from crime. Actress Nancy Cartwright, known as the voice of television's Bart Simpson, serves as spokesperson for The Way to Happiness. (See "The Way to Happiness: Building Values and Equality.")
Scientologists' history of helping others also prompted Los Angeles Mayor Richard Riordan to recognize Celebrity Centre and its parishioners for having "greatly contributed toward making the Hollywood community a better place to live and work through helping artists with their careers, through active involvement in civic and charitable affairs with fundraisers that brought succor to thousands of underprivileged children."
Scientologists engage in community betterment activities because reaching out to help others is an integral part of their beliefs. And in one recent — and typical — period of just a few months, more than 6,000 people attended Celebrity Centre benefits for a multitude of charitable organizations and causes — events which occur regularly throughout the year.
Christmas Stories
Each year, for example, in cooperation with the Hollywood Police Support Association, Celebrity Centre sponsors "Christmas Stories," a program of songs, skits and dance which raises funds to bring holiday cheer to Hollywood's underprivileged children. The fourth annual event, held on December 6 and 7, 1996, featured such international talent as actresses Kirstie Alley, Nancy Cartwright, Jenna Elfman and Priscilla Presley, top Australian vocalist Kate Ceberano, Academy Award-winning composer and musician Isaac Hayes, leading Mexican actor Eduardo Palomo, Mexican recording artist Carina Ricco, Edgar Winter and comedian Jonathan Winters.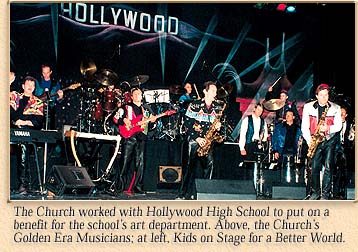 Each performance carried the standing room only audience back to the golden age of 1930s radio, complete with an "On the Air" sign above the stage. Highlights included a hilarious yet touching impromptu monologue by Jonathan Winters, followed by Kirstie Alley and Eduardo Palomo as Lucy and Ricky Ricardo in an original "I Love Lucy" skit written by Chris Smith. Isaac Hayes and Kate Ceberano sang "Baby It's Cold Outside," Edgar Winter performed Irving Berlin's "White Christmas" and Carina Ricco, who flew in the day of the second show, performed John Lennon's "And So It's Christmas" in Spanish.
More than $15,000 was raised at the 1996 event and, as in years past, proceeds from the performances were donated to the Hollywood Police Support Association for its annual Hollywood Community Police Christmas Party for needy children and their families. Money was additionally presented to the Hollywood Police Activities League and the LAPD Hollywood Division's Jeopardy Program, both of which work with at-risk youth, encouraging them in athletic and educational endeavors supervised by LAPD officers.
The Church of Scientology was recognized at the event by the president of the Board of Directors of the Police Activities League, Tom Peters, who acknowledged the Church for its many activities to help youth in Hollywood, and the president of the Hollywood Police Support Association, Ferris Wehbe, who commended the Church on behalf of the Association.
Karen Hollander, president of Celebrity Centre, accepted a plaque from the Police Activities League, and a special message was read from Mayor Riordan, recognizing Celebrity Centre for "its dedication to the local community with outreach and fundraising activities during the holidays."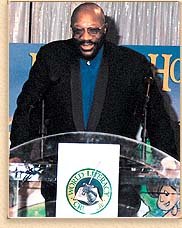 Annual Events and Fundraisers
Every January, coinciding with the birthday of the Rev. Dr. Martin Luther King Jr., Celebrity Centre hosts the World Literacy Crusade Gospel benefit, featuring world-class gospel singers. The event is also an annual tribute to Dr. King. Proceeds help literacy programs which restore pride and self-respect to inner city youth and adults, and contribute to stemming the tide of crime and drug abuse.
Headlining the 1997 fundraiser, held on January 18 and attended by celebrities, community leaders and hundreds of other supporters of the World Literacy Crusade, was eight-time Grammy Award winner Shirley Caesar, known as the first lady of Gospel music. On display was an historical pictorial entitled "Memories of Martin," documenting the noted humanitarian's life.
Members of Celebrity Centre established the Hollywood Education and Literacy Project (HELP), which opened its doors on March 13, 1997, with honorary Hollywood Mayor Johnny Grant helping to cut the ribbon. Dedicated to helping youth learn and to eradicating illiteracy in the Hollywood area, HELP works closely with the Hollywood Police Activities League and the LAPD Hollywood Division's Jeopardy Program, bringing vital tutorial services to the community free of charge, utilizing a corps of more than 100 volunteers. (See "H.E.L.P. – And Hope - in Hollywood".)
Celebrity Centre sponsors the Kids on Stage for a Better World, a troupe of dancers and singers aged 3 to 19 who have performed hundreds of events throughout the city at schools, senior citizens' centers, shopping malls and other venues. The Kids bring messages that embody the highest ideals of our society and the hopes of its people. They address issues that include improving the environment, stamping out drugs and crime, and building friendship and trust among people of all ethnic and racial backgrounds.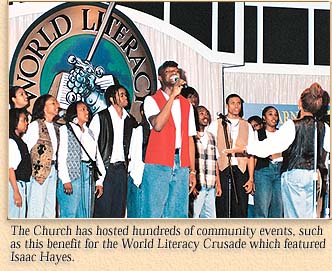 Tens of thousands of people come to Celebrity Centre each year to attend shows, plays, workshops and seminars on a broad range of subjects. Many celebrities who are Scientologists volunteer their time to help other up-and-coming artists succeed and routinely provide classes to the community.
Popular seminars have included "How to Break into Voice-overs" with actress Noelle North, "Film Composing" with Mark Isham, "Making It In The Music Business" with bassist Billy Sheehan, "Breaking Into Commercials Now" with actor Jim Meskimen and "How to Sing Anything You Want and Feel Comfortable on Stage" with recording artist Gloria Rusch. Actor George Randall regularly conducts cold-reading acting classes for adults and acting classes for children, while in any given month numerous other career advancement programs are scheduled.
A New Spirit in Los Angeles, continued...