Ben Matthews and Wayne Sanders, Music and Artistic Directors of the Opera Ebony Company in New York, long a platform for minority performers.

Posthumous awards were presented to the Rev. Dr. Martin Luther King Jr.; L. Ron Hubbard, founder of the Scientology religion; and Ken Saro-wiwa, renowned Nigerian writer and activist for the Ogoni people, who was abruptly sentenced to death in December 1995.

Proceeds from the awards event funded scholarships for college and high school students specializing in the field of human rights, enabling them to participate in the United Nations Summer Human Rights Internship Program in Geneva, Switzerland.

Cops 4 Kids

Working with the Los Angeles Police Department, Paramount Studios and the Hollywood Athletic Club, the Church helped to sponsor a "Cops 4 Kids" fundraiser for the Police Activities League youth center in Hollywood. In a surprise announcement, Priscilla Presley, who serves on the PAL Board of Advisors, donated $10,000 to PAL on behalf of Elvis Presley Enterprises.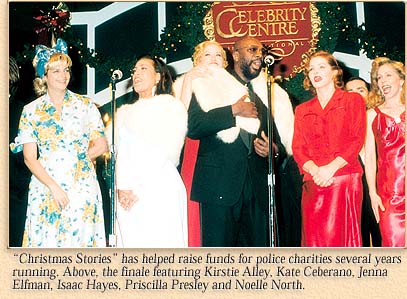 "I have an 8-year-old son and I have been concerned about raising him in a dangerous environment," said Presley. "When I heard about PAL, I felt I could do something for children." Presley encouraged others to donate whatever they could to the cause.

Los Angeles Deputy Mayor Tom Labonge presented certificates of appreciation from Mayor Riordan commending Paramount Pictures, the Church of Scientology and the Hollywood Athletic Club for "outstanding commitment and support of the Hollywood PAL's effort to build a youth center facility to benefit the youth of Hollywood."
Artistic Transformation
In another community effort, the Hollywood Beautification Team, which routinely conducts clean-up and anti-graffiti paintouts in the community, combined forces with the Celebrity Centre International Visual Artists Association, a group of Scientologists who are fine artists, on an extensive mural project at Hollywood High School.
Members of the Visual Artists Association and the Hollywood Beautification Team worked every weekend for more than a year – putting in over 3,700 man-hours – to transform drab and graffiti-strewn walls in the school's historic Liberal Arts Building into spectacular works of art.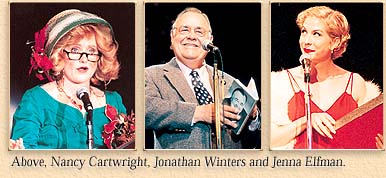 To acknowledge Celebrity Centre, the artists and the Hollywood Beautification Team for their work, Hollywood High threw a reception in their honor. The president of Celebrity Centre in turn arranged a special benefit concert to raise funds for the school's Arts Department. Emceed by actor Michael Roberts, the concert featured Edgar Winter and the Church of Scientology's Golden Era Musicians, with a special performance by the Kids on Stage for a Better World – and raised more than $10,000.

"Miracle on Hollywood Boulevard"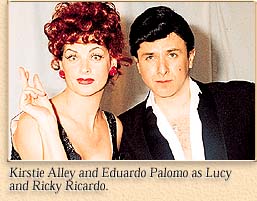 Churches of Scientology throughout Los Angeles hold numerous events in support of charitable and human rights causes, and contribute to those held by other community groups. But they also help produce many other events and functions to enhance the community and to entertain both residents and visitors.
Each holiday season since 1983, the Church of Scientology of Los Angeles has sponsored Winter Wonderland, a tradition begun by L. Ron Hubbard with the gift of a giant Christmas tree to Hollywood's citizens and visitors. The tradition has continued through the efforts of Scientologists and local churches of Scientology, which each year help make Hollywood Boulevard a location where families can enjoy a festive holiday setting, at no charge. Attendance at the 1996 Winter Wonderland exceeded any of the years past, with more than 500,000 touring the site from throughout Southern California and indeed from all over the world.
That year's festival featured a man-made "snowstorm" on December 24 with no less than 10 tons of snow, which capped weeks of skits, dancing, musical performances and other celebrations. The festivities started on December 7, when Santa Claus, portrayed by veteran stunt man "Wild Bill" Mock, descended from his helicopter onto his Christmas home – as he has each holiday season for the last 14 years.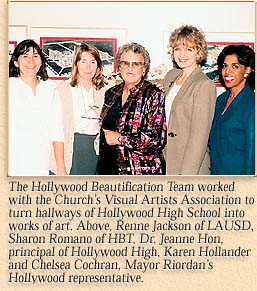 The classic winter setting, dubbed by passers-by the "Miracle on Hollywood Boulevard," featured Santa's house surrounded by a forest of evergreens – including a 65-foot fir tree, the tallest in Los Angeles – beneath an 80-foot backdrop of the famed Hollywood Hills, decked with snow.
Bill Welsh, president emeritus of the Hollywood Chamber of Commerce, was among the many well-wishers on hand when the centerpiece Christmas tree arrived. "I think it's an important and beautiful addition to the way we in Hollywood celebrate the holidays," he said.
"We Have Turned The Corner"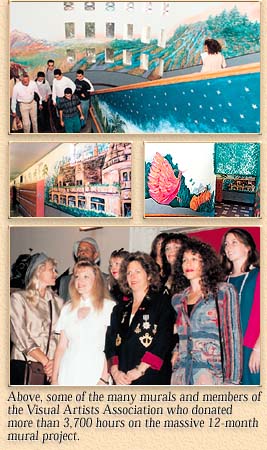 Many individuals throughout the community helped with Hollywood's Night Out Against Crime, a celebration observed by millions of people throughout the country as National Night Out. The 1996 event, held on Hollywood Boulevard in front of Mann's Chinese Theater and attended by nearly 3,000 people, featured Mayor Riordan, Police Chief Willie Williams, Fire Chief William Bamattre and City Council Member Jackie Goldberg.
Working with the Hollywood Chamber of Commerce, the Hollywood Community Police Advisory Board and the Hollywood Police Support Association, the Church of Scientology helped to produce the 1996 event that has now become an annual highlight for downtown Hollywood.
Event Chairman Chris Baumgart, chairman of the Hollywood Community Police Advisory Board, acknowledged the Church of Scientology for its support, which included providing the stage for the event and the evening's star-studded musical entertainment: Chick Corea, Mark Isham, Edgar Winter and the Church's Golden Era Musicians.
Baumgart pointed out the great progress that has been made by the community, planning and working together, against the problems of drugs and crime. "We got our message across that we have turned the corner," Baumgart said, "and turned Hollywood into a desirable place to live and do business."
And so it is, throughout Hollywood and Los Angeles, through many activities by innumerable people, forward strides are being made toward a better community.