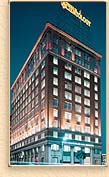 The acclaimed L. Ron Hubbard Life Exhibition in Hollywood


e was a writer, philosopher, barnstorming pilot, explorer, musician, educator, naval intelligence officer, photographer, press reporter, special officer of the L.A. Police Department, horticulturist, composer, master mariner, and even more – fully professional in more than 29 different fields. He was a man ahead of his time, defying any simple categorization.
That "he" was L. Ron Hubbard. And virtually everything he did was with the aim of helping mankind. Millions of lives have been touched by the man known as "Ron" to his many friends; yet many know little about him beyond his name and the value of his works.
"A lot of people know that Ron wrote Dianetics, that he founded the Scientology religion, or that he developed a technology to get people off drugs," says Lissa Uviz. "But the full picture of Ron's life is a big one – in fact, it is the most fascinating and exciting I've ever heard of."
Uvizl heads the L. Ron Hubbard Life Exhibition in Hollywood – winner of the prestigious Hollywood Legacy Award for 1995 – which has hosted tens of thousands since it opened six years ago. Unique amongst museums and exhibits, it features the life and works of only one man, in more than 30 displays and exhibits; but, as one guest put it, "this is a man who lived about a dozen lives in a single lifetime." The exhibition is information and action-packed, and has been called "one of the best museums in Hollywood."

High-Tech and Alive
Just stepping into the reception area, you get a sense of how different the L. Ron Hubbard Life Exhibition is. Meticulously restored, vaulting ceilings are adorned with gold leaf in the same style as that which was featured in the building when it first opened in 1924; a small photo display shows the building during its initial years, and its impressive restoration in 1991. A video station features information about the many fields in which Hubbard worked.
Entering the exhibition, "high-tech" and "alive" are the watchwords. Unearthly figures in exhibits featuring Hubbard's fiction accomplishments "talk" to each other while hurtling through space and time. You see excerpts from one of the movies Hubbard penned for Hollywood. The principles and application of Hubbard's revolutionary drug rehabilitation methods are graphically demonstrated. A fast-paced display of Hubbard's bestsellers shows many of the books which have been purchased and read by millions.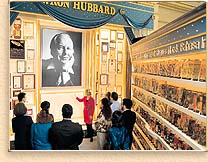 The "dramatizations" of Hubbard's fiction are quite apropos today. "One of Ron's all-time classics, Battlefield Earth, is now going to be produced as a major motion picture. John Travolta is involved in the project," says Uvizl.
But you also see much more than just his famous written works. Hubbard was America's youngest Eagle Scout, and photos and memorabilia from his time in the Scouts are on display – along with his diary, containing many fascinating and humorous entries such as one which records his now-famous visit to President Calvin Coolidge in Washington.
A recent addition to the display is the Boy Scouts of America Lifetime Achievement Award presented posthumously to Hubbard in 1995 for his life-long dedication to the ideals of Scouting – a dedication which he carried with him through his travels in the Far East, through combat experiences in the Second World War and through his researches into the nature of Man which led to Dianetics and Scientology.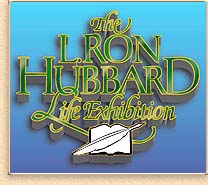 Ron once said that if it hadn't been for what he'd learned in the Scouts he wouldn't have made it through World War II alive," says Uvizl.
His remarkable youth included seeing his photographs appear in National Geographic, studying dozens of primitive races in both hemispheres, and leading the first mineralogical expedition to Puerto Rico in 1932. By the time he was 19, he had logged more than a quarter of a million miles in travel. Photos and artifacts punctuate the stories told in the displays.
He also penned motion pictures for Hollywood in the late 1930s – including Columbia's The Secret of Treasure Island, a "super-serial" of more than a dozen 15-minute film installments which played each week in theaters.
A theater in the exhibition features a film entitled "The Story of Book One," which is an intriguing inside view of the events which led up to the publication of Dianetics on May 9, 1950.
There is much more, and more displays and exhibits are being added and existing ones expanded. "There is so much to Ron's life," says Uvizl, "that we could easily double the size of the exhibition and still not cover everything."
One visitor said as he left the exhibition, "Just seeing what Mr. Hubbard achieved in a single lifetime is an inspiration. I really hope everyone sees it."

The L. Ron Hubbard Life Exhibition is located at 6331 Hollywood Boulevard, Los Angeles, in the historic Hollywood Guaranty Building at the corner of Hollywood and Ivar. It is open from 10:00 a.m. to 10:00 p.m., seven days a week. Advance bookings are recommended— call (323) 960-3511.
You can also join the many who have visited and toured the L. Ron Hubbard Life Exhibition on the World Wide Web at: http://www.lronhubbardprofile.org/exhib.htm