have to tell you, I have been in this town a long time," said Honorary Hollywood Mayor Johnny Grant to the assembled crowd on the boulevard, "and I have heard a lot of promises. And I have gotten used to a lot of disappointment.
"But, today, I am impressed. What we have here is something that is really making a difference, from people who really care." And, on that note, he cut the ribbon to officially open the Hollywood Education and Literacy Project (H.E.L.P.) – which was already tutoring more than three dozen people, many of whom had walked in for help while renovations for the project's offices were in progress.
The grand opening was indeed a "Hollywood" occasion, in the best of ways: Grant was joined by Actress Anne Archer, Los Angeles Deputy Mayor Tom Labonge, Paramount Studios Group President Earl Lestz, Lt. Ron Sanchez of the LAPD and other Hollywood leaders. Councilwoman Jackie Goldberg's representative was also on hand to present a special commendation for the occasion. Hundreds of people came to hear the speakers and to be among the first to see the new project.
But in all that was said, Lt. Sanchez may have made the point best when he explained why he and his programs were working with H.E.L.P.: "After 21 years [in the department] you begin to see the commonality in these senseless crimes. ... I have met countless hardworking, honest illiterate people; however, you would have to be naive to deny that there isn't a nexus between literacy and crime.
"I am very fortunate to have been involved in the LAPD's Police Activities League and Jeopardy youth development programs. In these programs we invest our time and money in front-end intervention and youth development. Now we have combined our efforts with those of the Hollywood Education and Literacy Project. The combination of our programs provides our kids with companionship, mentoring, individual guidance, study techniques and life skills."
Today the project, which is affiliated with Applied Scholastics International in Los Angeles and utilizes the study and learning methods developed by L. Ron Hubbard (see Bridging the Learning Gap), has more than two dozen trained tutors who are teaching learning skills to more than 60 students of all ages. Everyone who works at the project is a volunteer, and there is no charge for their services – even though, as one man put it, "[t]hey pay attention to you like you're paying them $1,000 an hour."
"The whole focus is working with every person on a one-on-one basis," explains Kinder Hunt, founder and president of H.E.L.P. She feels this is one of the reasons why so many people continue to walk in looking for the kind of personalized help the project offers – and why they even came when her newly renovated quarters were still under construction and not even officially open. Students were tutored while carpenters, electricians and others labored next to them.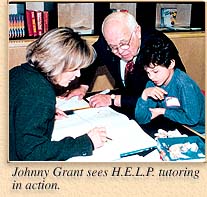 One woman who walked in a few weeks after renovations had started – and who has continued coming – arrived with her two grandchildren. She said that her dream was to get a real education so she could get a job doing office work. She was truly illiterate, so much so that she could not read the test she was given to determine her reading skill level.
"We got her onto the Literacy Course, which teaches reading and writing skills," Hunt said, "and she began sounding out and writing letters of the alphabet."
But a few weeks ago, Hunt was in her office when the woman's tutor, who had been trained by the project, came to her with even better news: The formerly illiterate grandmother had just read four books to her tutor.
Kinder Hunt and Jeff Butler, who lead a large team of volunteers who established the project and run it today, were – and are – determined to help the community solve one of its most fundamental problems. Its beautiful facility was created through hundreds of hours of work and many other contributions by volunteers from throughout the Los Angeles area.
"Anyone can help," notes Hunt, stressing that H.E.L.P. trains its own volunteer tutors. "And I hope we will see a lot more community projects like this one in the near future."