---


o school education is complete today without an understanding of modern computer technology.
In many inner-city schools, however, the already crushing problems and scarcity of resources are compounded by lack of computer availability and instruction.
The result is many low-achievement students left even further behind and losing the battle to find a place in society. To the rescue is a program which brings cyberspace to the classroom in troubled communities.
Cities in Schools (CIS) is a program based in Compton, near south-central Los Angeles, an area well known for its drug and crime problems. This program helps students stay in school by giving them the opportunity to learn cutting-edge technology in the computer field.
CIS in Compton keeps 20 volunteers busy teaching students from age 9 to 12 to use the Internet. Tutors include college students from the area who enjoy showing young students the ropes on the Net.
"The kids tell me it's easy and they are having fun with it," said Michael Pham, a 19-year-old volunteer and sophomore at Los Angeles Harbor College. "We're learning Prodigy now, which gives them the latest news on anything. This is opening up the world to them," he said.
"I really like this program a lot," said one student, "It's different. You don't sit in the classroom all day." Another said, "If it weren't for Cities in Schools, I would be a dropout right now."
Compton's Cities in Schools is part of a national network of similar programs called the Global Schoolhouse, which includes more than 30 schools in 12 states and eight countries.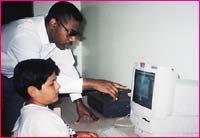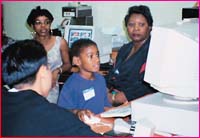 The Cities in Schools program in the troubled community of Compton, California, keeps kids in school by teaching them to use the Internet.
Participants communicate with their counterparts in sister programs, such as at the UK/LA Information Superhighway Conference in Beverly Hills, California, where Los Angeles-area CIS students communicated on-line with their CIS counterparts in London.
A CIS program in New York has operated two similar pilot projects at Downsview Secondary School and Westview Centennial Secondary School since 1990. In that time, CIS worked with 250 high school students who were on the verge of dropping out of school, overwhelmed by academic, social or personal problems. Of these, more than 75 percent stayed in school and turned their lives around. The Greater Greensboro, North Carolina, program has helped 600 students stay in school since 1988.
Most recently, in March, the U.S. Department of Housing and Urban Development selected CIS Compton as a "Next Generation Site" which qualified CIS to receive a $10,000 grant. CIS is conducting research to determine the best utilization of the grant money, and plans to expand its facilities for teaching children computer skills.
The expanding Cities in Schools programs need volunteers, computers, and phone lines.
To assist CIS, call Executive Director Shirley Allen or Agency Coordinator Victoria Adams at (310) 637-7422.