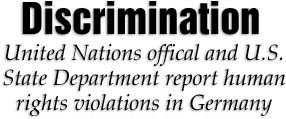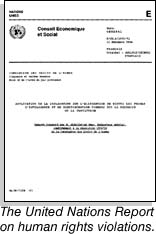 s Germany struggled unsuccessfully to defend its carefully cultivated image of a fair, democratic nation in the year that marks the 50th anniversary of the end of the Holocaust, a top United Nations official and the U.S. State Department both
rebuked the German government
and reinforced efforts by members of the Church of Scientology to end discrimination and bigotry, and to restore true human rights in Germany.
It is now more clear than ever that the German government needs to take corrective action to provide fundamental human rights to its citizens.
Both bodies recently published official reports that included chronicles of discrimination against Scientologists and condemned the actions as human rights violations. The German government has, until now, depended heavily on the United Nations and the U.S. State Department to stabilize its image and position, but now it must take a hard look at its discriminatory activities in light of their official actions.


The report released by the State Department in February acknowledged that members of the Church of Scientology in Germany have had to face discrimination and harassment and have been forced by government officials to seek protection and relief for their grievances from courts.
The document is the State Department's annual Human Rights Report for 1994, which focuses on key countries that are of direct U.S. and international concern because of their human rights violations. Germany is one of those nations, and the position taken in the report reflects a strong stand against German bigotry.
A week after that report came out, on February 10, 1995, the special rapporteur for religious intolerance of the United Nations — the UN's official expert on religious human rights issues — presented his 1994 report regarding international religious intolerance to the Human Rights Commission of the United Nations.
The entire section of the report on Germany was devoted to cases of illegal and unconstitutional human rights abuses and discrimination against Scientologists in Germany by governmental bodies and officials. This was the first time that Germany was singled out for its religious discrimination and abuse since the Holocaust.
The report cites specific examples of discrimination such as the city of Hamburg's refusal to rent halls to the Church of Scientology; the removal of the rights of Scientologists to serve as jurors; Scientologists fired from their jobs and blacklisted within their professions; children removed from school; and bias by the government of Baden–Wuerttemberg against international artist Chick Corea, forbidding him to play because he is a member of the Scientology religion.
In September 1994, the Church of Scientology International began publishing full-page public service messages in The New York Times and Washington Post, exposing the German government's courtship of totalitarian principles in violation of its own constitution's guarantee of religious freedom.
These latest developments in focusing on the discriminatory conduct sanctioned by the German government show progress in acknowledging the depth of the problem and the necessity for the German government to look closely at its mistakes and change the country's course.