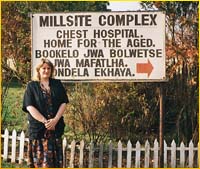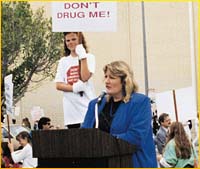 In South Africa, CCHR International President Jan Eastgate found psychiatric camps, relics of the apartheid government and psychiatric enslavement.
---
CHR in the United States receives scores of complaints every week from patients who have been falsely imprisoned in institutions, assaulted or abused by psychiatrists.
Many of these victims have subsequently filed complaints with appropriate criminal and justice authorities. This has led to psychiatrists facing criminal charges and going to jail for their crimes. Those who got off with less than a prison term have had their medical licenses suspended or revoked.
Avalanches of complaints implicating a particular hospital chain have resulted in the investigation and closure of entire psychiatric facilities. Criminal investigations involving 400 psychiatrists and mental health workers are currently under way by CCHR in nearly every state in the United States.
In recent months, CCHR has assisted law enforcement officials to bring criminal actions against four psychiatrists and other mental health practitioners.
Peter Alexis, former administrator of Psychiatric Institutes of America in Fort Worth, Texas, was sentenced to five years' probation for participation in a nationwide conspiracy involving the private psychiatric hospital chain. Alexis admitted to paying out more than $20 million in bribes to over 50 referring physicians and other health care professionals. He pleaded guilty to charges of conspiracy.
Alexis blew the whistle on colleagues also guilty of these criminal acts. Alexis' attorney told the Dallas Morning News that many more indictments will follow from the psychiatric fraud in these institutions.
A Colorado psychotherapist, Marjorie Gillespie, on probation for a 1993 conviction for Medicaid fraud, landed back in court this year for failing to pay back the defrauded money. The courts ordered that if she continues to fail to pay the criminal debt, she faces up to two years in jail.
Colorado psychologist Joseph Rantuccio in February was jailed for 30 days and sentenced to 10 years probation for sexual abuse of a patient. Rantuccio has lost his license for at least the next decade.
California psychiatrist Barry Smolev was sentenced in March to six months in a halfway house and five years probation for his part in a scheme to defraud patients who thought they were taking part in a weight-loss program only to find themselves locked up in a psychiatric hospital.
During the past five years, CCHR has assisted criminal and justice agencies in the United States to charge and prosecute 110 psychiatrists and other "mental health" practitioners.
In the same period, the licenses of more than 300 psychiatrists and practitioners have been revoked because of criminal activities. Mark Ferguson, a California psychologist, had his license permanently revoked this year for sexually abusing a patient.
The Massachusetts Medical Licensing Board refused to renew the license of psychiatrist Gilles Desmarais because of an incident that occurred 20 years ago. Records show that he had sexually abused a patient, and when his wife learned of his actions, she committed suicide.
Desmarais moved his "patient" into his house the same night of his wife's suicide. He married her a short while later, but the marriage ended six months after that when his new wife attempted to take her own life. The licensing board labeled Desmarais' conduct "unconscionable."
To report psychiatric crimes or abuses, contact Citizens Commission on Human Rights, 1-800-869-2247.