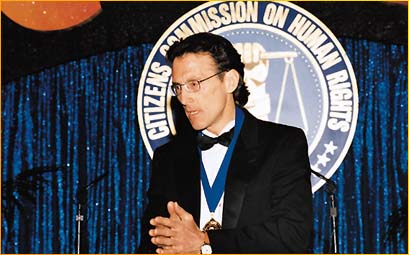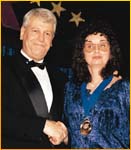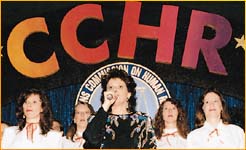 CCHR's International Human Rights Award was presented to author, investigative journalist, broadcaster and producer Gary Null (top) and to Sandra Everett, left, pictured with CCHR's Bruce Wiseman. Everett founded Citizens Rescuing Youth, a group that frees children from psychiatric facilites. The awards ceremony featured a performance by vocalist Raven Kane.
---

hen the Citizens Commission on Human Rights celebrated its 26th anniversary this year, it marked the occasion in Los Angeles with awards presented to international leaders in the cause of human rights. The event was attended by 450 people, including leaders in medicine, human rights, government and education. Awards were presented to Gary Null and Sandra Everett in recognition of their human rights work.
Null, an author, investigative journalist, broadcaster and producer, has exposed corruption and abuses in psychiatry, the U.S. Food and Drug Administration, and other areas. Everett formed Citizens Rescuing Youth, a group freeing children from psychiatric facilities, where abuse is rampant.
Bruce Wiseman, president of CCHR in the United States, summarized CCHR's actions in cleaning up the mental health field over the past year, exposing psychiatry's fraud, waste of taxpayers' money and sexual abuse of patients. He described psychiatry as "that faction of the health-care industry that doesn't work."
"Psychiatry betrays its patients with promised help that it never delivers and commits fraud in staggering amounts $40 billion each year just in the United States," he said. "That is $1,333 every second of every day." Jan Eastgate, international president of CCHR, described the worldwide activities of CCHR, including psychiatric atrocities uncovered in South Africa.
In 1976, Freedom and CCHR exposed appalling psychiatric "slave labor camps," in which 10,000 black patients were incarcerated in degraded conditions, with the majority sleeping on mats on concrete floors. Electric shock was administered without anesthetic. A chief state psychiatrist explained that anesthetics were used on whites and not blacks "because It is simply too expensive, too slow and too risky.... [B]ecause we treat more Africans than Whites, we would have to double our staff if we used anesthetics."
Information recently brought to light showed that between 1975 and 1989, 1,451 women in the hands of South African psychiatrists, many of them between 10 and 19 years of age, were sterilized.
Eastgate's recent travels to South Africa included work with political, legal and human rights representatives to investigate psychiatric abuses so that those responsible can be brought to justice and to ensure such atrocities do not happen again. The South African government has announced that a national inquiry is to be held with public hearings in each of the country's nine provinces.