UNDER INVESTIGATION
Help end a brutal practice by furnishing information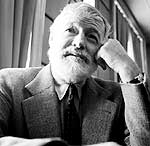 "What do you think happens to a man when he realizes that he can never write the books and stories he promised himself?"


— Ernest Hemingway, after receiving electro-convulsive shock "therapy," which destroyed his memory. (Shortly thereafter, the great writer killed himself.)
Decades of experience have documented the destructiveness of electro-convulsive shock "therapy" or ECT.
Despite this, certain money-driven institutions ignore human rights and promote this barbaric practice, one first tried on humans by psychiatrist Ugo Cerletti after he saw pigs destroyed in an Italian slaughterhouse. Among those pushing attempts to "popularize" ECT is the Western Psychiatric Institute and Clinic (WPIC) in Pittsburgh, Pennsylvania, part of the University of Pittsburgh.
If you have knowledge of patient deaths or harm from ECT or other experiments or treatments — including drug tests following ECT, and drug tests on children, Freedom magazine wants to hear from you. You may help to save future lives, including someone you love.
Freedom is also interested in evidence of irregular financial matters, conflicts of interest, or other crimes and misconduct relating to WPIC and its connections.
Send details in writing to:
Freedom Magazine
6331 Hollywood Blvd., Suite 1200
Los Angeles, CA 90028
or visit investigations.freedommag.org
Harm in the Name of Help
The Citizens Commission on Human Rights has published a series of booklets which thoroughly document psychiatric harm, abuse, criminality and fraud in different zones of society. More than four million copies of these publications have been distributed internationally.
"Documenting Psychiatry: Harming in the Name of Health Care" includes insights from medical professionals in more than 20 countries. It scientifically disproves the most fundamental psychiatric diagnostic fallacy: that mental illness is the result of a "chemical imbalance in the brain." The "chemical imbalance" theory is used to justify millions of prescriptions of mind-altering drugs.
Included are articles covering the worldwide medical concern over children being labeled with fraudulent psychiatric disorders and drugged with cocaine-like stimulants, such as methylphenidate.
Documents and statistics also establish the link between rising childhood/teen violence and the influx of psychiatric drugs in our education system.
To obtain copies, contact the Citizens Commissions on Human Rights at 6616 Sunset Blvd., Los Angeles, CA 90028. Telephone (323) 467-4242 or (800) 869-2247, or visit www.cchr.org or e-mail: humanrights@cchr.org