Ambassador for Freedom Dr. Sayyid Muhammad Syeed
By Thomas G. Whittle

FREEDOM'S HUMAN RIGHTS LEADERSHIP AWARD RECIPIENT Sayyid Muhammad Syeed greets guests of the Islamic Society of North America's (ISNA) 40th Anniversary Conference in Chicago. ISNA, under the guidance of Dr. Syeed as secretary general, comprises hundreds of Islamic organizations with millions of members across the continent.
L
ate in his life, Mahatma Gandhi saw his dream of an independent India come true, only to witness the fledgling state shattered by riots between people of differing faiths.
In September 1947, he fasted in Calcutta to induce Hindus and Muslims to stop killing one another.
His health not recovered, he traveled to Delhi, where over a one-week period Sikhs and Hindus had slaughtered more than 1,000 Muslims. He announced he would not eat until a truce was reached, and commenced a fast which continued until he fell into a coma.
Seeking to avert the death of India's most revered man and prevent further bloodshed, leaders of the three religions worked through the night to hammer out an agreement — which was done, then signed the next day.
As in Calcutta, one man, acting upon his beliefs, had achieved a miracle and stopped the violence.

Rising above Hatred
Dr. Sayyid Muhammad Syeed grew up in Kashmir, a region where Hindus and Muslims once lived in such accord that Gandhi had described it as a "ray of hope" for Indian peace and harmony.
In August 1947, Syeed sat in his father's lap in the Kashmiri town of Spore during a meeting with Gandhi. The great leader, a Hindu, gave the 6-year-old Syeed, a Muslim, his blessings.
Gandhi journeyed to Calcutta after this, his only trip to Kashmir, but his memory remained strong with young Syeed.
He embarked on a similar path, utilizing his knowledge and abilities to advocate peace, democracy, understanding and positive change in a region increasingly riven by sectarian strife, where human rights became threatened with extinction.
His efforts ultimately brought him two years' incarceration and brutality. His hands today bear scars from cigarette burns inflicted by his captors more than 30 years ago.
He credits Amnesty International with freeing him, but to this day is reluctant to discuss those years as a prisoner of conscience.
It is a mark of the man that the cruelties he experienced failed to stem his dedication to the cause of human rights or to dilute his urge to help others.
Emigrating to the United States in 1974, Syeed obtained his doctorate in sociolinguistics from Indiana University at Bloomington and became a U.S. citizen.
He co-founded the American Journal of Islamic Social Sciences, now published simultaneously in Malaysia, Pakistan, Turkey and the United States, and recognized as the foremost journal in its field globally.

Increasing Communication and Understanding
"I applaud ISNA for your efforts to improve the lives of American Muslims and for gathering to consider issues important to your community and to celebrate the values we share as Americans."
— President George W. Bush
Commemorating the 40th anniversary of the Islamic Society of North America
Today, Syeed's influence extends to all corners of the globe.
As secretary general of the Islamic Society of North America (ISNA), he heads an organization that represents hundreds of affiliate groups with millions of members.
Guided by Syeed, ISNA and its affiliates conduct numerous programs to benefit communities and individuals, including efforts to improve education, to care for the elderly, to battle drugs, to rehabilitate prison inmates, to advance human rights, and to foster cooperation and dialogue with other religions.
President George W. Bush sent a message to commemorate ISNA's 40th annual convention, held from August 29 through September 1, 2003, in Chicago. "Millions of American Muslims make important contributions to American culture and make our diverse country better and stronger," the President wrote, in part. "I applaud ISNA for your efforts to improve the lives of American Muslims and for gathering to consider issues important to your community and to celebrate the values we share as Americans."
The convention included interfaith presentations and panels, with representatives from a broad array of religions, from which emerged powerful messages on the need for increased communication to bring about greater understanding and on the importance of freedom for all.

Worldwide Force for Peace and Positive Change
In the wake of 9/11, Syeed was among the first to denounce the terrorists, condemning the attacks as contrary to Islam and rallying members of his faith to raise money to aid victims and their families.
In the years since, his has been a powerful voice for moderation and sanity, promoting healing and pluralism and campaigning against hatred and extremism. By carrying his message abroad, he distinguished himself as a worldwide ambassador for democracy, freedom and human rights.
Long before 9/11, however, Syeed's continuing theme, whatever the medium or the forum, was to promote inter-religious communication and goodwill, and to condemn hatred and violence.
For decades, following in the footsteps of great peacemakers, including the one he met as a boy in Kashmir, Syeed has worked diligently to build and strengthen bridges with other Muslim and non-Muslim organizations, and to resolve issues of human rights, including in Palestine, Bosnia, Kashmir, Chechnya and within the United States.
In pursuit of these goals, he forged his own identity as a humanitarian and human rights advocate, accepting a workload that has included thousands of speeches and media interviews in America, Turkey, Malaysia, the Sudan, Pakistan and Saudi Arabia. Fluent in English, Arabic, Urdu, Persian and Kashmiri, whenever his voice is heard, his message is one of working together in peace and mutual respect, of bridging differences and establishing friendships.
He chairs the editorial board of Islamic Horizons magazine and served on the Board of Trustees of the Council for a Parliament of the World's Religions, a group seeking "to cultivate harmony between the world's religious and spiritual communities and foster their engagement with the world and its other guiding institutions in order to achieve a peaceful, just and sustainable world."

Commitment to Freedom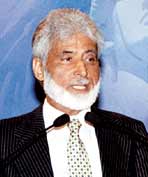 DR. SYEED was influenced greatly by Mahatma Ghandi, to whom he was introduced in 1947 by his father.
In discussions with
Freedom
, Syeed articulated his views. Respect for human dignity sparked his interest in human rights, including freedom of expression and freedom of religion.
When rights become systematically violated, as in his homeland, he said, liberty cannot breathe. This has led to the emigration of many Kashmiris.
"I had realized how the growth and development of the human mind itself is affected in that kind of suffocating environment," he said. "I had been comparing that with the contributions that humans can make in an environment where there is freedom and where they're encouraged to contribute their best."
Having witnessed troubled times, "I committed myself," he said, "to building an environment where humans will have that freedom to grow, to express, to practice, to speak their conscience."
The answer to any threat to freedom, he believes, is for each person to be concerned about, and to work for, the rights of others. "It becomes the responsibility of all of us," he said, "to see that there is no curtailment of rights."
Many have perceived the value of Syeed's persistent efforts. In January 2002, for example, the then Indiana governor, Frank O'Bannon, commended him, stating, "[Your] work to educate Americans about the Muslim faith in the wake of the September 11 terror attacks, along with your life's work to encourage tolerance and racial healing has marked you as a great leader in Indiana."
Events have, of course, also established him on the national and world stages.
John L. Esposito, professor of religion and international affairs at Georgetown University, told Freedom Syeed is "a trailblazer in Muslim-Christian relations," noting that "he has been an untiring activist and leader, promoting a better understanding of Islam and Muslim-Christian dialogue."
Esposito, editor of The Oxford History of Islam and The Oxford Encyclopedia of the Modern Islamic World, added that Syeed's "faith, intelligence, compassion and passion for justice and human rights are accompanied by an infectious smile and laugh that exemplify the man and his life."

A True Champion
Rev. Bob Edgar, general secretary of the
National Council of the Churches of Christ in the USA
, described Syeed as "a clarion voice for moderate Islam for years."
"Especially after 9/11," Edgar told Freedom, "which threw the spotlight on Christian-Muslim relations, together he and I have walked the road of tolerance, and indeed affirmation, of one another's traditions with regard to peace and justice.
"While he is a fervent Muslim, and I am a fervent Christian, we continually discover shared principles that bring us together in friendship and solidarity with regard to the well-being of our respective communities. In this, I find him a true champion of respect for religious diversity and human rights."