Recognizing Human Rights Advocates
Human Rights Leadership Awards for 2003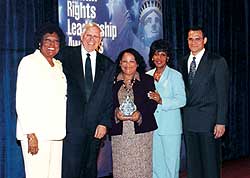 ACCEPTING FREEDOM'S HUMAN RIGHTS LEADERSHIP AWARD on behalf of the family of civil rights champion Celes King III is the late brigadier general's goddaughter, Charlene Meeks, flanked by presenters, from left to right, Rep. Diane Watson (D-CA); President of the Church of Scientology International Rev. Heber Jentzsch, Rep. Maxine Waters (D-CA) and Freedom Editor-in-Chief Tom Paquette.
R
ecognizing that it is woefully inadequate merely to point out what is wrong,
Freedom
magazine seeks to advance the positive contributions of individuals in government, constitutional law, the media and other sectors of society who have advanced human rights and freedoms.
Since 1988, Freedom has recognized prominent international human rights advocates with its Human Rights Leadership Award. Recipients are truly remarkable men and women who make a difference, whose ambitions for the world extend far beyond their own needs and desires and who, by stellar example, pave the way for human rights for all.
In the nation's capital, Freedom honored its 2003 Human Rights Leadership Award recipients, U.S. Congresswoman Ileana Ros-Lehtinen (R-FL), who chairs the House Subcommittee on Middle Eastern Affairs and was the first Hispanic woman elected to Congress (See Freedom Volume 35, Issue 1); Dr. Sayyid Muhammad Syeed, secretary general of the Islamic Society of North America (featured in this issue's Human Rights Leadership Profile); Dr. Inonge Mbikusita-Lewanika, Zambian ambassador to the U.S. and one of the most accomplished missionaries for human rights in Africa; and, posthumously, the late Brigadier General Celes King III, for his achievements in the name of civil rights and individual liberty.

Keynoting the Human Rights Cause
"Rights today are still abridged, lives still stand in jeopardy in many corners of the world," said mistress of ceremonies Anne Archer, as she commenced the awards ceremony. "Freedom magazine and its many collaborators and partners continually demonstrate through their work that one person can make a difference in society — that something can be done about it."
Following on that theme, Archer introduced Rev. Heber C. Jentzsch, president of the Church of Scientology International, who opened the awards ceremony with these words: "Try as we might, we cannot routinely predict where the next great man or woman will appear. The next great inventor could be that quiet man mowing his lawn across the street. The next great artist could be that five-year-old girl drawing with crayons in the corner of the classroom or staring out the window and wondering at the world.
"But, there is one thing we can predict with confidence: The potentially great man or woman — given the tools of education and encouraged in their basic human rights, their dignity, their labor, their thoughts, and their aspirations — can better their lives and achieve their potential."
Rev. Jentzsch cited Scientology founder L. Ron Hubbard's definition of greatness as a quality shared by each of Freedom's Human Rights Leadership awardees: "One must act, one must preserve order and decency, but one need not hate or seek vengeance....
"To hate alone is the road to disaster. To love is the road to strength. To love in spite of all is the secret of greatness. And may very well be the greatest secret in this universe."
Retired Congressman Benjamin Gilman, a 2002 recipient of Freedom's award, returned in 2003 to deliver the keynote address. The former House International Relations Committee chairman focused on the urgency of addressing human rights violations not only in the dictatorships of the world, but in democratic countries as well.
"As a 30-year member of Congress, and as a long-serving member of our great International Relations Committee, I had a unique opportunity to both observe and champion the struggles of many of our minorities around the world," he said. "As both a veteran of World War II and a member of a religious minority, I've long been sensitive to the discrimination fostered by private individuals and by government policies.
"Whether that discrimination is in the form of housing, civil rights or jobs, it has a cumulative effect of dehumanizing individuals to such a degree that, even without the threat of violence and physical intimidation, certain intolerant governments are emboldened to undertake even more aggressive actions against entire groups and classes of their own citizens.
"Were it not for the persistence of publications like Freedom magazine, we [in government] would have been unaware of these ... pernicious forms of intolerance and discrimination and prejudice."

Honoring Human Rights Leaders





HUMAN RIGHTS AWARDEES

The evening's first two awardees (top) are daily at the crossroads of peacemaking: Dr. Sayyid Muhammad Syeed, secretary general of the Islamic Society of North America, and Rep. Ileana Ros-Lehtinen (R-FL), who chairs the U.S. House Subcommittee on the Middle East and Central Asia. Ros-Lehtinen's mentor, former House International Relations Committee Chairman Benjamin Gilman (above) delivered the keynote address.
U.S. REPRESENTATIVE
Ileana Ros-Lehtinen
The evening's first Human Rights Leadership Award recipient, Congresswoman Ros-Lehtinen, was acknowledged for her actions on behalf of women and children of Afghanistan brutalized by the Taliban, the women and girls of Burma gang-raped by that nation's army, and religious minorities facing all forms of persecution.
"We had an opportunity, when I chaired the Human Rights Subcommittee in the House, to have a hearing on the religious intolerance that was growing... in our so-called allied nations — these wonderful partners who are supposed to be working with us," the congresswoman said. "The discriminatory practices that they employed in their businesses, where members of certain organizations, or certain people who adhere themselves to certain religious persuasions, are not able to participate in the full economic vitality of those countries. And that's wrong. That's wrong for those countries to do, and it's wrong for the United States to turn a blind eye to that. We hope that in the series of hearings that we held, we were able to shine the light of truth, to make sure that our allies would know that that kind of behavior was unacceptable in today's society....
"Your work through Freedom does that. You speak for the oppressed. You speak for those that have no voice. And you give them a voice, and you treat them with respect. And we want to make sure that one day soon, we will have a world where we don't need to have those exposés, and we don't need to be chairing Human Rights Subcommittees to denounce the multiple violations, and we don't have to have human rights commissions in Geneva that are chaired by countries that are [among] the worst abusers of human rights in the world.
"But one day that will come to an end, and we will have that kind of freedom that your publication celebrates each and every time," she concluded.
ISLAMIC SOCIETY OF NORTH AMERICA SECRETARY GENERAL
Dr. Sayyid M. Syeed
Dr. Syeed, whose contact with human rights abuses in his native Kashmir helped set his remarkable career path, was honored for his effective leadership in forwarding interfaith communication and understanding.
On the state of human rights and tolerance since the darkest days of 9/11, Dr. Syeed gave this assessment: "We have a long way to go, but the fact of the matter is that the foundation is laid, a foundation of respect for different ethnicities, different races, different religions.
"But we have to work together in our march toward that kind of peace and harmony — at the time when the world has become a global village, when our gestures, our thoughts, our actions, in one part of the world can have an impact on the entire world. And at a time when we cannot afford to have a bad neighborhood sitting somewhere, because tomorrow, that bad neighborhood may visit us all.
"We need to be very clear. The message of the success that we have in building a society of this nature, this message needs to go out. We have not yet succeeded in articulating the message of America: America's commitment [to] pluralism, America's commitment to diversity. That message has not been properly articulated, and has not been translated in different parts of the world.
"Today, having recognized our successes, we need to commit ourselves — that what is great for us here in America, needs to be delivered in clear terminology to different parts of the world — because we need it throughout the globe. This is our strength, and this is our source of pride."
THE LATE BRIGADIER GENERAL
Celes King III
One of the country's most respected grassroots leaders, Celes King III, was then honored for laying down an unparalleled pattern of human rights accomplishments over more than five decades in Los Angeles.
Gen. King, who passed away on April 12, 2003, was the spark that ignited such civil liberties initiatives as the Brotherhood Crusade of Los Angeles, the Annual Kingdom Day Parade and the LA Rumor Control Network. As well, his 12 years at the helm of the Congress of Racial Equality (CORE) in California came at a time when civil disruptions rocked Los Angeles and cried out for a voice as reasoned and powerful as his.
In tribute, Rev. Jentzsch narrated a video presentation of the civil rights icon's life, then invited longtime friends, U.S. Congresswomen Diane Watson (D-CA) and Maxine Waters (D-CA), for their thoughts on Gen. King's contributions.
"Celes King was a man that was well ahead of his time," said Congresswoman Waters. "He was an activist, he cared about civil rights and human rights and he could not work within the box."
To this, Congresswoman Watson added, "When we talk about human rights, we're talking about the leadership of a Celes King."
In accepting Freedom's Human Rights Leadership Award as a representative of the family, Charlene Meeks stated, "On behalf of Mrs. Anita King and the King family, I express our sincere thanks and appreciation for this great honor being bestowed upon our beloved Celes....
"Celes was a living legacy and civil rights pioneer and champion. As L. Ron Hubbard so eloquently said, 'constant willingness to fight back' is the price of freedom. And Celes was a true freedom fighter all his life."
ZAMBIAN AMBASSADOR TO U.S.
Inonge Mbikusita-Lewanika: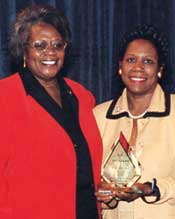 HUMAN RIGHTS CHAMPION:
Dr. Inonge Mbikusita-Lewanika, Zambian ambassador to the U.S., accepts her 2003 Freedom Magazine Human Rights Leadership Award from past awardee Rep. Sheila Jackson Lee (D-TX).
For her tireless efforts throughout Africa to champion the rights of women and children, the evening's final awardee, Ambassador Inonge Mbikusita-Lewanika, was honored with a special introduction by Congresswoman Sheila Jackson Lee (D-TX), a past Human Rights Leadership Award recipient herself.
"I come this evening, honored both to be amongst those of you who cherish freedom and to be able to join with those who will not give up," said Congresswoman Jackson Lee. "There is hope in this room. Do not leave it in this room. For the Ambassador is carrying her hope through her actions and her words. And she is saving lives as well as pressing for freedom and peace."
Working with the African Union*, UNICEF and other groups, Dr. Mbikusita-Lewanika has also been a vocal spokesperson against war, genocide and corruption. In accepting her award, she saluted the women's peace movement throughout Africa. "Whenever there have been conflicts, women have risen and tried to resolve that conflict peacefully," she stated. "It is my honor and privilege to take this opportunity to commend those women who have worked tirelessly to promote development at the community, national and international level. This award, received on their behalf, should be an encouragement to them.
"They are called non-conventional peacemakers because normally they are not funded; they are not recognized. Their contributions to peace and development remain unwritten and undocumented.
"Yet, as far as development is concerned, many citizens, particularly women in the remote rural and other marginalized areas, continue to contribute more than their share.
ANNOUNCING
Freedom's 36th Anniversary & 2004 Human Rights Leadership Awards
This year marks the 36th anniversary of Freedom magazine.
Keep an eye on Freedom's Web site, www.freedommag.org, for the latest on our 36th anniversary event and this year's Human Rights Leadership Award nominees.
"May I invite you this evening, to commit yourselves to peace in your family, at your place of work, in your community, in your nation, and the whole world. For truly, we are in a global village. And the seeds of peace that we plant, future generations will harvest. We owe this to them."
Freedom's determination, and that of its Human Rights Leadership Awardees, echoes the words of L. Ron Hubbard, who wrote: "Human rights must be made a fact, not an idealistic dream."
While many have dreamed the dream, it takes the facts of human rights and personal freedom to bring those dreams into reality.
By recognizing those who actively work to preserve those rights for our future, the hopes of billions can someday be realized.

* African Union: Established in 1999 and composed of heads of African states, the African Union is the continent's premier institution and principal organization for the promotion of accelerated economic integration of the continent, which will lead to greater unity and solidarity between its countries and peoples.