Providing the Tools to
Learn Anything
New Study Technology headquarters generates a world of learning — Applied Scholastics International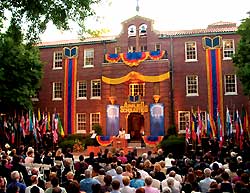 HELPING TO OPEN THE DOORS OF THE NEW APPLIED SCHOLASTICS INTERNATIONAL HEADQUARTERS in Spanish Lake, Missouri (above), was actor-producer Tom Cruise (below, left), who told the audience that Applied Scholastics holds the key to understanding and applying what one reads and studies. His goal as international ambassador for L. Ron Hubbard's Study Technology: make it available to all who reach for it.
W
hen he was a young boy, Tom Cruise had a dream — he wanted to fly planes. "What better time to learn how to be a pilot than in preparation for 'Top Gun,'" he told more than 2,500 educators and guests gathered at the opening of a new international teacher training facility. "So one day I went to have a lesson and after one day I gave it up — I couldn't do it."
There was just one problem, he admitted: he could not understand what he was reading in his training manual — and to make matters worse, a decade earlier he had been convinced of a label he found impossible to shake at the time. "I had been diagnosed with a false label, dyslexia," he said. "With that I had been told I had a 'learning disorder.'"
Thus, his immediate reaction to failure as a pilot student was, "'I'm dyslexic — damn!' I've got to figure this out."
He tried everything to unsnarl his study troubles — "different tutor groups, different speed reading courses, I hired people to come in and read with me."
Then, the breakthrough: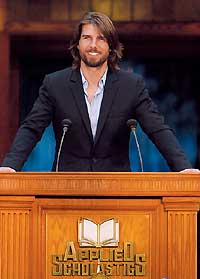 "Study Technology works. It can turn around anyone's education difficulties and change one's life. It's applicable to people at every level of society, every nationality, every age."
— Tom Cruise
"Shortly after that I discovered 'the
Study Technology
,'" he said, referring to discoveries by author and humanitarian
L. Ron Hubbard
that teach people, young or old, how to learn anything.
Today, the producer and star of The Last Samurai says he hasn't seen his learning difficulties since he began using Mr. Hubbard's revolutionary Study Technology.
"Now, I am a licensed pilot, twin engine, instrument rated, which means I can fly through any weather by flight instrument alone; commercial rated, which means I can carry passengers as a profession if I so desire; and just for fun, I'm a highly trained aerobatic pilot.
"I am a film producer, I have my own film company, I own and run three companies and I continue to act in movies in addition to all that. And I learn every single day," he stressed. "I use this technology each and every day in my life, at my work, with my children, in every area of life. Because of what Study Technology did for me, I started helping others."
Cruise has done so as a founding board member of the Hollywood Education and Literacy Project (H.E.L.P.), a highly effective community-based learning program utilizing the Study Technology to open the doors of learning to students of all ages. He has assisted in H.E.L.P.'s expansion to 26 chapters across the world. In 2003, he was recognized by the National Mentoring Partnership with their Excellence in Mentoring Award.
As ambassador for Applied Scholastics International, Cruise says that this highly practical brand of help is the missing step in education. It certainly enabled him to come to grips with the real reasons for any "learning disability" he had, and it has also made successful learners of millions more around the world.
World Study Technology Headquarters
Expanding those numbers to millions more was what drew him and more than 2,500 educators, government officials, corporate executives and area residents to America's heartland on July 26, 2003. There, they participated in the opening of the new Applied Scholastics International headquarters in Spanish Lake, near Saint Louis, Missouri.
Applied Scholastics is an educational organization that licenses private schools, community literacy centers and tutors utilizing Mr. Hubbard's teaching and learning methods. The organization has trained more than 64,000 teachers and educators internationally since 1972.
And the need has never been greater. Today there are hundreds of millions globally who are functionally illiterate, unable to compete in the workplace and only partially capable of leading productive lives.
Under the direction of Chief Executive Officer Bennetta Slaughter, Applied Scholastics' new facility will train teachers, corporate trainers, mentors, tutors and education consultants from around the world, supplementing their existing education with Mr. Hubbard's precise system for learning any subject. The campus' curriculum includes workshops and courses ranging from educational basics all the way to advanced teaching strategies and methodologies, as well as several continuing education courses and postgraduate credits.
"It is not that educators are unwilling or unable to teach," Slaughter told her grand opening audience. "It is a matter of a missing link between their teaching and the comprehension of their students. And it is not that students are unwilling or unable to learn. It is a matter of the gap in their education — the subject of study itself, their very ability to learn.
"And that is what we provide as a solution — the remedy of the crucial gap in learning....
"There has never been a central training center. It was all happening one-on-one — the technology being passed from one person to the next. So this center is a first, and it is exclusively dedicated to training educators at every level: tutors, mentors and teachers — those who deal with these problems on a day-to-day basis.
"Here, now, is a place where they can get the tools, not only to handle their students, but to go out and further teach others to apply the technology to their own students. That is why this campus represents a watershed and why we are so honored to open these doors," Slaughter said.
World Literacy: Born in Conflict, Bearing Peace
THE APPLIED SCHOLASTICS INTERNATIONAL CAMPUS AT SPANISH LAKE near St. Louis, Missouri (above) trains teachers, corporate trainers, mentors, tutors and education consultants; there they learn Study Technology that puts their students firmly on the road to learning.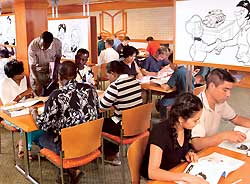 A
mong honored guests at the grand opening event was Rev. Alfreddie Johnson, who in the wake of the 1992 LA riots, launched the
World Literacy Crusade
and has nurtured it into a network of 30 Study Technology centers from the U.S. and Canada to Central and South America, Europe, Africa and Australia.
After joining educators and Applied Scholastics supporters from all over the world to cut the ribbon for the new Spanish Lake facility, Rev. Johnson told Freedom of his epiphany with Mr. L. Ron Hubbard Study Technology.
"In 1992, I found the technology of study, developed by L. Ron Hubbard. Very profound.
"I was at a meeting held in the city of Compton, where a gentleman from Applied Scholastics was giving a lecture on 'the misunderstood word.' He said that Mr. Hubbard had discovered in his studies that there were three barriers to learning and the most important barrier was the misunderstood word.
"A lot of times people don't do anything because they don't understand. And they're not able to make happen in their lives what they want to make happen because they have not been able to understand or 'duplicate' the knowledge, the ideas, the concepts that the conveyor of the message — God, if you will, or the spirit of God within them, or some author — delivers. They're not able to assimilate the technology or the technique of a message.
"So this was very profound to me: the misunderstood word. Immediately that was it for me. I raised my hand, and I said, 'Give me this stuff.'
"This is what I was looking for because I knew I was called, if you will, and I had chosen to answer, but in the back of my head I felt totally unequipped because I didn't have a technology or a technique in order to arm the people I was trying to help."
Unprecedented Results
In The Gambia, Study Technology has been implemented on a national level under the leadership of another honored guest at the Spanish Lake facilities' opening, Dr. Ndong Jatta, Secretary of State for Education. So far, more than 6,000 Gambian schoolteachers have participated in Applied Scholastics' four-week national training program on Study Technology.
Dr. Jatta emphasized what this means in a country once rife with education problems. "For most people, teaching is not an attractive field. In Africa in particular, where you have large class sizes of 40, 45 and up to 50, and are dealing also with some characteristics of the indifferent students, if you have a technique in reaching each student and helping the student to discover what the difficulties are, half of the work is done, and the teacher and student both enjoy it.
"I feel the technology is a godsend for teachers and for students alike....
"Every child has a goal. Every child has an aspiration, and in most cases, it is never tried out. But if you now know that anything and everything is possible, there is nothing that can stop you. You can reach out for the skies. And this is what education is about. Education is not about helping a child get a job. Education is about helping the child create a job."
Literacy to Millions the World Over
Today, an estimated 3.5 million students and thousands of teachers in universities and school systems use Mr. Hubbard's advanced technology of study internationally.
The new Applied Scholastics International campus in Spanish Lake is there to make these methods broadly known to the hundreds of thousands of educators in schools and universities around the world who are so desperate for a solution to today's educational crisis.
"Study Technology works," said Tom Cruise before helping to cut the ribbon on the new facility. "It can turn around anyone's education difficulties and change one's life. It's applicable to people at every level of society, every nationality, every age." *