SETTING THE RECORD STRAIGHT
True Islamic Teachings vs. Psycho-Terror Fiction
By definition, Islam means "submission" (to the will of God). The religion's followers have, for many centuries, made immeasurable contributions to thought, culture, science and art throughout the world—a rich and positive heritage mocked today by terror instigators who claim to act in its name.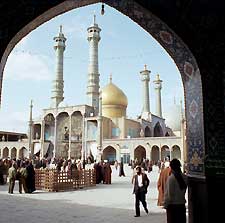 Prominent Islamic scholars and leaders are opposed to such violence—many of them outspokenly so.
Sheik Abdul Aziz al-Sheik, grand mufti of Saudi Arabia:
On June 2, 2004, Sheik al-Sheik stated: "Allah, the Almighty, forbids killing and aggression as well as doing injustice to people."
On June 23, 2004, he again called upon Muslims to shun extremism: "Some people call for jihad for the sake of God without justification.... These people want to raise the banner of jihad to draw the youth into their ranks and not to fight for God.
"Muslim youth must try and better themselves and their country but not through violence as Islam is not a violent religion, it is a merciful religion."
Dr. Youssef al-Qaradawi, prominent Muslim scholar:
"Anyone who commits these crimes is punishable by Islamic Sharia [the Holy Law of Islam] and [has] committed the sin of killing a soul, which God has prohibited to kill, and of spreading corruption on Earth."
Imam Wallace Dean Mohammed, spiritual leader of the American Society of Muslims:
On suicide: "Suicide is a great sin in Islam, as it is in Catholicism and most of Christianity. It is one of the major sins."
On murdering innocents: "Most of the religious scholars in Islam condemn such. They say, and I say along with them, that there is no support anywhere in Islam—in our Holy Book or in the life of our Prophet—for such."
On jihad or holy war: "Every sincere religious person knows that jihad ... simply means, if literally translated, 'struggle.' Firstly, with yourself to conquer that which is taking you away from the good person or behavior that God wants for you...."
Dr. Sayyid Muhammad Syeed, secretary general, Islamic Society of North America:
"In Islam, suicide is the ultimate debasement of human dignity.
"It is written very clearly that you cannot offer ceremonial ritual prayer to someone who has committed suicide. [By] treating a person like this you are giving a signal to the community that this is the ultimate sin that one can commit.... This sin is against God himself because you are wasting and destroying a gift that he has given you."
Sheik Mohammed Sayed Tantawi, grand sheik, Al-Azhar theological institute, Cairo:
"I do not subscribe to the idea of a clash among civilizations. People of different beliefs should cooperate and not get into senseless conflicts and animosity.
"Extremism is the enemy of Islam. Whereas, jihad is allowed in Islam to defend one's land, to help the oppressed. The difference between jihad in Islam and extremism is like the earth and the sky."
Harun Yahya (pen name of Adnan Oktar), Muslim intellectual and author of Islam Denounces Terrorism:
"Religion commands love, mercy and peace. Terror, on the other hand, is the opposite of religion; it is cruel, merciless and demands bloodshed and misery. This being the case, the origins of a terrorist act should be sought in disbelief rather than in religion.
"The name or the identity of the triggerman is not important. If he can kill innocent people without blinking an eye, then he is a nonbeliever, not a believer. He is a murderer with no fear of God, whose main ambition is to shed blood and to cause harm."