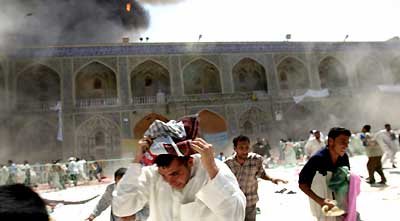 UNDER ATTACK:
Iraqis are being drugged, brainwashed and sent to die for bin Laden, says Colonel Karim Sultan, chief of police in Iraq's holy city of Karbala. Suicide bombers killed 112 people there on March 2, 2004. Shortly before the attacks, Sultan's force raided outlying villages, netting other possible suicide bombers and $20 million in narcotics—most of it suspected as coming from Iran. In Ukhaydir, southwest of Baghdad, explosives and recordings of bin Laden's speeches were found.
Bombers on Drugs
Meanwhile, other reports corroborate a connection between suicide bombers and drugs.
In April 2004 in southern Thailand, for example, an al-Qaeda-linked terrorist force, armed mainly with machetes, launched mass suicide assaults upon three police stations, killing three policemen and two soldiers. One hundred and seven of the attackers died. According to the nation's public health minister, Sudarat Keyuraphan, "methamphetamines and other illegal drugs [were found] in their bloodstream."18
In Kashmir, suicide bombers, called fidayeen, are administered drugs before their missions. According to Ashok H. Mehta, a retired Indian Army major general, "The fidayeen come in pairs, sometimes three, and at times four in numbers. They inject themselves with drugs before the assault. One of them is invariably spotted and killed but the others—either one or two—get inside the camp armed with automatic weapons, grenades and strapped with explosives."19
The police chief of Bandipora in northern Kashmir, Manzoor Ahmed, said that terrorists there "get involved in narcotics for two main reasons. One is to give to their fighters during suicide attacks, to give them courage and to take away the pain. The second reason is fundraising. Narcotics are very profitable."20
Creating Killers
Long before the concept of the "Manchurian Candidate"—a man "programmed" to kill by drugs and hypnosis—became popularized in print or film (see "Mind-control... alive and well"), experts say operational Manchurian Candidates were being created.
Psychologist-author George Estabrooks, for example, described programming soldiers on the Allied side to carry out tasks unwittingly during World War II. (See "Psycho-Warfare's Vile Legacy.") He was certainly in a position to know, having served as a consultant to the Federal Bureau of Investigation, the Army Counter-Intelligence Corps and the Central Intelligence Agency.
Estabrooks, who finished his career as a professor at Colgate University, reported hypnotizing people himself and getting them to carry out tasks without their knowledge and consent.
Creating an effective assassin, Estabrooks said, depended upon "splitting" the subject's personality, or making a "multiple personality," with the aid of hypnotism.21 "This is not science fiction," he said. "This has and is being done. I have done it."22
"What has been done once can be done again," he said. "It is child's play now to develop a multiple personality through hypnotism."23 In Estabrooks' opinion, one person in five made a good subject for hypnosis, while he considered roughly one in 20 "excellent."
Hypnosis, Drugs and Pain
Colin Ross, M.D., author of Bluebird: Deliberate Creation of Multiple Personality by Psychiatrists and an authority on coercive psychiatric methods, told Freedom that today terrorist groups and governments around the world continue to use the techniques described by Estabrooks and others to create new Manchurian Candidates.
A potpourri of methods can be exploited by an unscrupulous psychiatric technician to program an individual to commit violent acts, Ross said. Hypnosis exerts a more powerful influence when combined with drugs and pain.
Sleep deprivation, sensory overwhelm and other techniques can be added to the mix. (See "Terror 2004: Sensory Overwhelm.")
Psychiatrist William Sargant, a pioneer in coercive and manipulative psychiatric methods (see "Inside the Sleep Room"), authored Battle for the Mind and is considered to have written the 22-page section of an intelligence agency manual dealing with obtaining "cooperation" from "resistant sources."
Reports have been received that translations of excerpts of Battle for the Mind have been discovered in al-Qaeda training camps in Afghanistan.
The presence of doctors is vital, according to Colin Ross, as is their knowledge of mind-altering substances. Ross suspects the number of suicide bombers programmed with drugs may be "close to 100 percent."24
Walter Bowart, author of Operation Mind-Control, told Freedom, "Estabrooks didn't have a patent" on his methods. And with modern drugs, such means become even more deadly. An unprincipled practitioner, Bowart said, can knock someone out with drugs, then lay down commands with electric shocks as reinforcement.
Of note, another psychiatric mainstay found in the terrorist camp is the electro-shock machine. In 2001, for example, the al-Qaeda-controlled Taliban regime in Afghanistan utilized a portion of its hard currency to purchase some of these devices.
As previously covered in Freedom, Mullah Mohammed Omar, the leader of the Taliban, reportedly received electro-shock treatments and appears to have been little more than a figurehead, dominated by psychiatric conditioning and control techniques in the hands of al-Zawahiri and his men.
MEETING OF THE MIND MANIPULATORS

These forefathers of modern-day terror—and counter-terror—orchestrated infamous Cold War mind-control projects:

Sidney Gottlieb
sought methods to "crush the human psyche"



Sidney Gottlieb, the U.S. intelligence community's "Black Sorcerer," developed a mind-control obsession that paid psychiatrists to develop "techniques that would crush the human psyche to the point that it would admit anything."

George H. Estabrooks
Psychologist, hypnotism expert



Colgate University professor and psychologist George Estabrooks gleefully described hypnotizing and programming Allied soldiers during World War II to execute tasks without their knowledge or consent.

According to Estabrooks, creating assassins depended upon "splitting" the subject's personality, or making a "multiple personality," through hypnotism. "This has and is being done. I have done it," he said. "What has been done once can be done again. It is child's play now to develop a multiple personality through hypnotism."

By Estabrooks' estimates, one person in five made a good subject for hypnosis; one in 20 would qualify as "excellent."

William Sargant
British mind-control psychiatrist



William Sargant was a founder and director of the Department of Psychological Medicine at St. Thomas's Hospital in London, where he set up shop for his ghoulish mind-control experiments in a rat-infested basement. Translations of excerpts of Sargant's Battle for the Mind have reportedly been found in al-Qaeda training camps in Afghanistan.