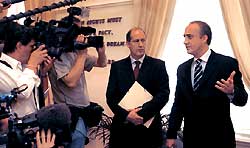 HUMAN RIGHTS IN EUROPE:
Addressing press from European Union nations at the Church of Scientology International's European Office for Public Affairs and Human Rights in Brussels are the office's human rights director, Martin Weightman, and public affairs director, Fabio Amicarelli.
A Foundation for Teaching Human Rights
One important means of developing grassroots awareness of human rights issues is through the targeted distribution of pamphlets and booklets containing educational information on the Universal Declaration of Human Rights. To date, 14 such informational publications have been produced in as many as 19 languages.
A principal theme of the Church's publications on human rights is that the UDHR is an effective educational tool in both defusing the tensions that cause conflicts and advancing the principles of respect and tolerance. The concept is well articulated in A Guidebook to Peace through Human Rights, published in early 2002. This work clarifies how and why human rights are the best route towards sustained peace in the world, and includes practical advice on how to apply the UDHR in everyday life. The text of the Declaration is included in the booklet. Scientologists have distributed this publication to government officials, community leaders and the media, and have provided innumerable copies to the public at large.
The Church of Scientology International also publishes How to Resolve Conflicts, a booklet that details the exact steps to isolate the real source of conflicts. Central to it is an essay by L. Ron Hubbard explaining why, despite the well-intended efforts of many, some disputes seem endless and unsolvable. Mr. Hubbard outlined the natural law behind such conflicts and precisely how to resolve disagreements large and small—information that, as he states, "is worth working with in any situation where one is trying to bring peace."
The widespread and sustained character of the Church's educational actions in this field has won the attention of leading human rights advocates, including the rapporteur of the European Parliament's 2002 Annual Report on Human Rights in the World, Member of European Parliment Bob van den Bos, who praised the Church for "the awareness-raising campaign of what human rights are as well as the practical assistance to those whose rights have been violated."
Young Champions of Human Rights
The value and importance of honoring and applying human rights, by both governments and individuals, cannot be understated. Yet very little education in this field is concentrated on the future and on those who will need it most: our children.
To correct this omission, Scientologist and educator Mary Shuttleworth, in coordination with the Church of Scientology International's Human Rights Department and the Foundation for Human Rights and Tolerance, founded Youth for Human Rights International (YHRI) in August 2001. An outreach project of the Foundation, YHRI's specific mission is to teach youth around the globe about human rights, helping them to become valuable advocates for tolerance and peace.
In less than three years, YHRI has established 26 chapters all over the world. Many human rights advocates, legislators, teachers, police and humanitarians now work closely with YHRI, encouraging young people to learn about, appreciate and even champion the cause of human rights.
Realizing that the Universal Declaration of Human Rights had to be made available in a form understandable to the very young as well, in March 2002 YHRI released What Are Human Rights? This booklet contains a simplified version of the UDHR written especially for children. Instantly popular with teachers, government officials, community and religious leaders—not to mention the children themselves—the work has already been translated into 19 languages. And in October 2003, the head of UNESCO's New York office took delivery of 2,000 copies of What Are Human Rights? for UNESCO-affiliated schools to foster understanding of human rights among the young.
In March 2003, the first South African chapter of YHRI opened its doors in Durban. Presiding over the inaugural ceremony was the city's deputy mayor, who described the launch of the human rights campaign as "a milestone event." Afterwards, a representative from an organization affiliated with the University of Natal, which helps children in South Africa understand their legal rights, commented, "It is essential that learners are taught about democracy and human rights throughout their schooling." In particular, she told a Durban newspaper, "The reaction to HIV/AIDS in our country has resulted in the infringement of many fundamental freedoms and human rights."
To further address this problem, YHRI's educational work in Africa now includes teaching children, as well as adults, about the causes and prevention of HIV/AIDS. YHRI has produced an easy-to-understand handout that defines HIV/AIDS, disposes of common misconceptions about it, explains how infection occurs and sets out what each person can do to minimize the risk—vital information on a continent socially, economically and emotionally devastated by the AIDS epidemic.
YHRI has also begun to tackle the problem of human trafficking or "modern day slavery," a crime that now affects an estimated 27 million people, mostly women and children, worldwide. (See "Putting a Stop to the Exploitation,") Youth for Human Rights works tirelessly to bring about greater public awareness of the problem, believing that increased understanding of its scope will compel effective action. In furtherance of this aim, YHRI has held a number of seminars and roundtables on human trafficking, including one in Los Angeles in January 2004, attended by concerned advocacy groups and the U.S. Department of Justice.
With the expansion of YHRI and its message that human rights should be learned when still young, has come a demand for more information from all over the world. To fill this need, in February 2004 YHRI representatives set out on a 45,000 mile World Educational Tour. In the space of five weeks, YHRI delegates traveled to both well-populated and far-flung locations, including Tokyo, Bangkok, Accra, Georgetown and Mexico City, to increase the understanding of human rights among youth and to found new YHRI chapters.
Along the way, YHRI representatives met with senior government officials, visited local towns and villages, and distributed to both parents and children copies of What Are Human Rights? and YHRI's educational flier on AIDS. At each stop, they asked the children to write short accounts of what they understood of human rights and why these are so precious.
The tour sparked a veritable wave of interest in human rights education for the young. As Elizabeth A. Ohene, the Ghanaian Minister of State, Tertiary Education, wrote, "You have certainly managed to break down the two difficult subjects of human rights and AIDS in the booklet What Are Human Rights? and the flyer entitled 'Protect Yourself [and Others] from a Sickness Called AIDS' into child-friendly tracts."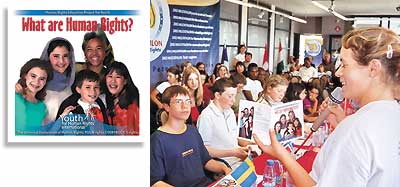 SAFEGUARDING FUTURE GENERATIONS:
Youth for Human Rights International presents the Universal Declaration of Human Rights in a form understandable to the very young. The booklet is popular with teachers, government officials, community and religious leaders and with children from across six continents.
"Free to Rise to Greater Heights"
Truly it is a common heritage among religions: the ambition to improve the world, to bring peace and succor wherever needed. Although that original intention may sometimes be obscured today in a world deeply divided by religious conflicts, it can be claimed with considerable justification that religion has served as a primary civilizing influence throughout history.
Churches of Scientology share in that same heritage, and have enshrined their commitment to such principles in church scripture. In fact, The Aims of Scientology, first articulated in 1954 by the religion's founder, L. Ron Hubbard, are "A civilization without insanity, without criminals and without war, where the able can prosper and honest beings can have rights, and where man is free to rise to greater heights...."
"Today, we stand at a watershed moment in history," states the International Church's Human Rights Director Leisa Goodman. "If we work diligently and well to see that human rights are made a certainty for every man, woman and child on the face of the Earth, we may in fact attain a true and stable civilization for all mankind, where crime, discrimination and war simply do not exist."