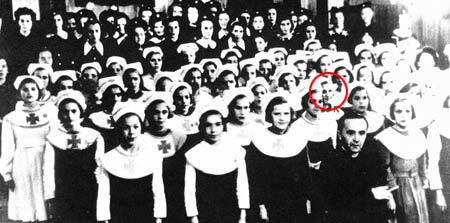 THE
LITTLEST

'GUINEA PIGS' I

n a 1993 interview in the Quebec magazine,

L'Actualite'

, Montreal psychiatrist Heinz Lehmann was asked about the Duplessis Orphans. Significantly, he said that back in the 1950s, psychiatrists could distinguish between those who were truly mentally ill and normal children like the Orphans.

1

A Quebec government document2 obtained by Freedom reveals that Orphans were housed at Verdun Protestant (now Douglas) Hospital, the psychiatric facility where Lehmann worked for decades, making it virtually impossible that Lehmann did not know about the Orphans incarcerated there, and unlikely that he was not involved in their "treatment" as psychiatric patients.

Freedom also obtained declassified intelligence agency documents that reveal the drug Lehmann championed, chlorpromazine, was one of the substances tested under a top secret project in 1954.

Chlorpromazine brought a bonanza to Lehmann. After working in virtual obscurity, he found the doors wide open to hundreds of thousands of dollars in research grants. While three people died under ghastly circumstances in just one of his published drug tests, involving eight individuals, Lehmann fattened off pharmaceutical funds and the intelligence sources that also supported the infamous "mind-control" psychiatrist Ewen Cameron. Lehmann's fellow psychiatrists bestowed upon him virtually every major North American psychiatric award.

In 1954, despite clear evidence of its destructiveness, Lehmann's "chemical lobotomy" was approved by the U.S. Food and Drug Administration. By 1964, some 50 million people around the world had taken the drug. Chlorpromazine's manufacturer saw its revenue double three times in 15 years.3

A Site of Experiments?

Freedom discovered that the name of Lehmann's close friend and colleague, Cameron, appeared in the medical files of some Orphans, implying involvement in their "treatment." A medical doctor who worked at Hospice St. Jean de Dieu (now Louis-Hippolyte Lafontaine Hospital) confirmed he had seen Cameron and Lehmann at that institution on various occasions, buttressing the possibility that some of their experimental work may have occurred there.

Professor Frederic Grunberg of the University of Montreal said that Cameron was funded by Canada's equivalent of what would be combined federal and state grants in the United States, called Dominion-Provincial Mental Health grants, administered by the Mental Health Division of the Department of National Health and Welfare.

Cameron also received money from Sidney Gottlieb of U.S. intelligence, architect of the various "mind control" programs that utilized coercive psychiatric methods in efforts to control human behavior. A dominant figure in the psychiatric world, Cameron, following his 1952 American Psychiatric Association presidency, became a prime beneficiary of Gottlieb's covert funding.

1953 marked the supposed "discovery" of chlorpromazine for use in subjugating patients, as promoted by psychiatrist Lehmann. A review of Lehmann's experiments revealed that in 1953, he conducted clinical trials of the drug at Verdun Protestant Hospital.

In its investigation, however, Freedom learned that Duplessis Orphans were given chlorpromazine, with horrible effects, as early as 1947, six years prior to Lehmann's "official" discovery. One doctor who worked at St. Jean de Dieu in 1952 estimated that 10 percent of its inmates — or 500 out of 5,000 — were on chlorpromazine at that time, long before the drug's 1957 approval by the Canadian government.

This doctor told Freedom that he was provided with samples of the drug, and started taking them to see what the effects might be. He stopped after just a few days due to adverse effects that included tremors and akinesia — a loss or reduction of normal abilities to move the body.

References:
1. Yanick Villedieu , "55 Ans de Revolution Psychiatrique" ("55 Years of Psychiatric Revolution"), L'Actualite, May 15, 1993, page 13.
2. Decree 1153-2001, September 26, 2001, published in Gazette Officielle du Quebec, October 24, 2001, pages 7,359 — 7,361.
3 "A Science Odyssey: People and Discoveries, Drug for Treating Schizophrenia Identified," PBS, 1998.