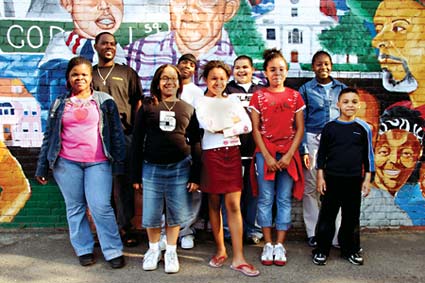 A Ministry That 'Shines on Every Corner'
T
wo very concerned parents, Richard and Deborah Miller, brought their 6-year-old son, Andre, through the brightly lit entrance of the
Scientology Volunteer Ministry's
learning center in Boston, Massachusetts.
They were worried because their spirited first grader seemed unable to grasp even the most basic reading, writing or arithmetic skills, and now the boy's first grade teacher was telling them he would likely have to re-do his first grade. Not wanting Andre to start his educational career with what they considered a humiliating mark against him, they turned to the Volunteer Ministers' free tutoring program for help.
"What catches people's attention about the Scientology Volunteer Ministry is its mission: it acts to undercut escalating violence and crime by teaching youth how to study and learn. Illiteracy closes the door to a prosperous future for inner-city youth, forcing many to turn to gangs, a life of drug use or criminality," said Robert Castagna, the Boston Volunteer Minister who rallied community leaders, educators and a number of his fellow Volunteer Ministers to open the center and launch its Reading and Study Skills Project in April 2004.
"By showing kids how to learn anything, our program creates more and more distance between them and the dwindling spiral of illiteracy — and it enables them to tap their creative, constructive riches," he said.
Dramatic Turnaround
We utilize Study Technology developed by L. Ron Hubbard and in no time our tutors began to turn Andre's study troubles around," said Castagna. And Andre, for his part, immediately took to the program.
"Previously he hadn't done much more than struggle unsuccessfully to figure out words and numbers," Castagna told Freedom. "Here he had some tools to resolve that problem and much more — but on a steady learning curve. We first had to go back to the point of tracing out the letters for Andre, then gave phonics lesson after phonics lesson until he completely owned those letters, sounds and words — for the first time he was understanding what he was learning."
In the next five months, Andre not only learned to read and write, but became such an avid reader he would stay up late devouring books well beyond his grade level. "Often his father would come in, boasting about Andre's progress," said Castagna. "Mr. Miller was soon bringing in other parents and their children to receive the help he knew they so desperately needed."
By March 2005, when the Boston public school system scheduled its meeting to review Andre's progress, the reaction among the educators was nothing short of amazement. "He's come about two years since November," said one occupational therapist. "I don't think I've ever seen someone advance so quickly."
But the most important verdict to the Millers came from his first grade teacher: she said she would be happy to promote him to the next grade. She had never seen such a dramatic turnaround, she later confided to Castagna.