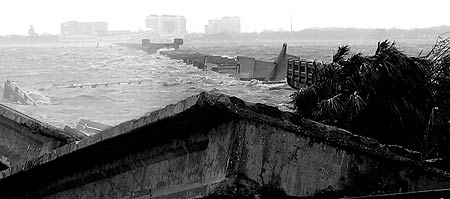 In Katrina's aftermath people across the nation sought to be part of the relief efforts, reaching out to provide for the survivors. Among the first to arrive were the Volunteer Ministers.
IN THE WAKE OF
KATRINA
W
hen Katrina was still a Category 1 hurricane, the struggle to protect property and lives was localized in South Florida, said Judy Fagerman of Dunedin, Florida, director of the
Church of Scientology's Tampa Bay-area Volunteer Ministers
corps.
Teams of Volunteer Ministers — maneuvering over rain-slicked roads, flooded streets and fallen trees — joined with emergency relief organizations and the Florida National Guard in dispensing food, water and other necessities to Dade County storm victims. But as Katrina veered toward the Louisiana and Mississippi coasts, a raging Category 4 behemoth, the Volunteer Ministers realized the need for their aid would soon dramatically increase.
Mobilizing Volunteer Forces
Even before the extent of Katrina's havoc became fully known, Fagerman said, a caravan of Florida Volunteer Ministers was en route to emergency relief operations in Louisiana. "When Katrina was still a Category 1, we weren't sure what it was going to do," she said. "But we had already been contacted by the state of Florida's emergency services and we were ready to do whatever was needed."
Arriving in Baton Rouge in late August, the Florida team joined forces with Volunteer Ministers who were already aiding tens of thousands of evacuees throughout the Gulf Coast. The Church of Scientology Mission of Baton Rouge, converted into a disaster response staging center, served as the focal point for local relief efforts and volunteers arriving from around the United States. Within a week, more than 500 Volunteer Ministers were in action at Louisiana refugee shelters in Baton Rouge, Lafayette, New Orleans and Vermilion Parish.
The seasoned Florida team, headed by Fagerman and joined by Volunteer Minister units worldwide, provided for the immediate needs of the victims, securing shelter, bedding, showers, food, water and medical help, working in Baton Rouge, Lafayette and other communities in Louisiana and Mississippi.
Upon their arrival in Baton Rouge, a local doctor sought their aid to provide trauma assistance to the thousands of dispossessed people arriving at the city's River Center relief site.
From Lafayette, members of the Florida team supervised disaster relocation operations for an entire parish south of the city at the request of authorities, working with local volunteers and government officials to set up shelters, assist families, and find permanent housing and jobs — all while providing transportation, food, water and other necessities.
As a result of their work, the local sheriff, Michael Couvillon, distributed a communiqué urging all civil authorities to avail themselves of the Volunteer Ministers' effective services.
"The Scientology Disaster Response Team has worked at Ground Zero during 9-11, assisting clean-up and aid after the Tsunami, and was a major force in every hurricane to hit Florida in the last three years," Couvillon wrote. "They are experts in handling human misery and assisting the rescue workers and other relief teams to get the job done."