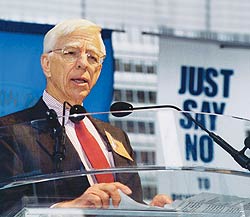 DR. FRED BAUGHMAN
Defending Today's Youth and Tomorrow's Leaders
A doctor's epic struggle to end psychiatric labeling and keep children off drugs touches every classroom, every home
On a March afternoon, 14-year-old Matthew Smith of Clawson, Michigan, was skateboarding with two cousins in the basement of his aunt's house. Abruptly, he collapsed.
Rushed to a nearby hospital, Matthew was pronounced dead.
The autopsy by Ljubisa Dragovic, M.D., chief pathologist of Michigan's Oakland County, concluded the boy died from a heart attack induced by an amphetamine-type drug widely prescribed to America's children. The death certificate read: "Death caused from long term use of Methylphenidate (Ritalin)." Dragovic revealed the drug created "chronic change of the heart muscle and the small blood vessels in the heart."
Matthew first took the drug at age 7, after being diagnosed with Attention-Deficit/Hyperactivity Disorder (ADHD).
The death of Matthew Smith is one of the many tragedies that drives pediatric neurologist Fred Baughman, M.D., to do what he has done for decades: educate the public on the dangerous and even lethal effects of psychiatric drugs, and battle to end the psychiatric labeling of children.
Declining Education
Baughman's medical career began in Boston, Massachusetts, and Grand Rapids, Michigan. He moved to San Diego in 1975 with his family, continuing what would ultimately become a 35-year practice in his specialty.
Over the decades, he examined hundreds of children referred to him by schools to be diagnosed for ADHD or other "disorders."
Although these children were thought to have brain or other abnormalities, when Baughman examined them, he found no physical illness, brain disease or neurological impairment in any of them. Assuring the parents their children were not sick, he refused to prescribe the amphetamines or other stimulants recommended by psychiatrists for ADHD.
As time went on, he observed the ranks of psychiatrists and psychologists in schools steadily increasing, particularly after the American Psychiatric Association voted ADHD into existence and promoted this new "mental illness" in the 1987 edition of its Diagnostic and Statistical Manual of Mental Disorders.
That same year, the psychiatric front group, Children and Adults with Attention-Deficit/Hyperactivity Disorder (CHADD), lavishly funded by pharmaceutical manufacturers, was formed to lobby in support of ADHD.
These developments, Baughman noted, were followed by ever-escalating numbers of children stigmatized with psychiatric labels, growing rolls of "special education" classes and plummeting scores on educational tests.