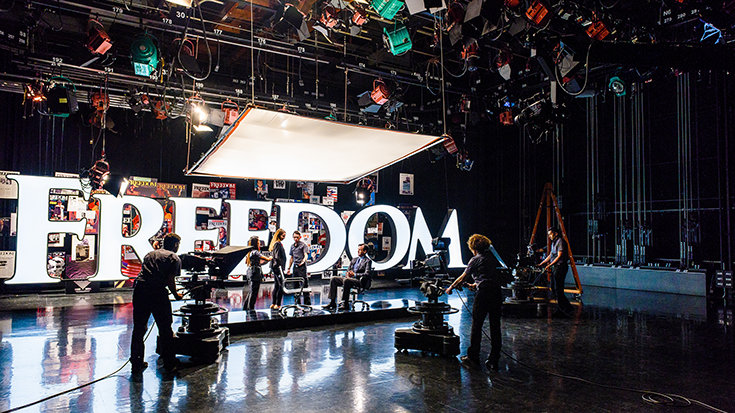 Freedom magazine is preparing to bring its groundbreaking investigative journalism to the airwaves.
Freedom magazine, since it was founded by the Church of Scientology 50 years ago this year, has enjoyed a colorful history as an investigative journal. It distinguished itself by compiling an impressive list of exposés on issues of public importance: human rights violations, government secrecy and the public's right to know, public corruption, injustice and mental health abuses. Now, with the launch of the Scientology Network, Freedom is entering a new realm of journalistic opportunity with the upcoming production of Freedom TV, headquartered at Scientology Media Productions in Los Angeles.
Freedom TV will offer news, public affairs reporting, documentary-style investigations and behind-the-scenes work stressing journalistic ethics and covering stories corporate-controlled mainstream media chooses to ignore: factual and responsible coverage addressing social justice, individual liberties and social reform.
Freedom magazine has long been the voice of the Church, and its mission has always been to investigate issues of public importance and uncover untold truths. But it has also been a voice for the powerless. In a media environment dominated by powerful, private commercial interests, the opportunities for sound, well-reasoned and well-documented investigative reporting—uncontrolled by special interests—have never been better.
In the 1970s, reporters for Freedom exposed the existence of psychiatric "slave labor camps" in South Africa resulting in government reforms over what the World Health Organization termed a "slave-trading" network. It exposed the CIA's secret mind-control experiments under the highly-classified MK-ULTRA program. Freedom investigations into secret testing of chemical and biological weapons in the U.S. by the military led to congressional reforms. In the 1990s Freedom exposed government cover-ups related to Gulf War Illness. And Freedom, history records, took a leadership role by giving public access to government information—through its news pages and in the courts—to protect and expand the U.S. Freedom of Information Act.
Freedom TV will follow those traditions, to bring to the Scientology Network a new kind of journalistic freedom.