Within hours of Hurricane Irma's exit from Tampa Bay, as the last gusts of her 400-mile-wide turbulence moved toward North Florida and Appalachia, VMs returned to the street and removed the plywood, clearing Clearwater's four-block retail district of detritus, fallen trees and returning Cleveland Street to near-normal. By late afternoon, Tuesday, September 12, Clearwater Beach was reopened, and VM yellow shirts blanketed Pier 60, removing hundreds of bags of flotsam and jetsam from the City's world-renowned sand. In just days, a team of 150 VMs, working alongside City staff and business owners, restored the Gulf beach to its pre-hurricane beauty.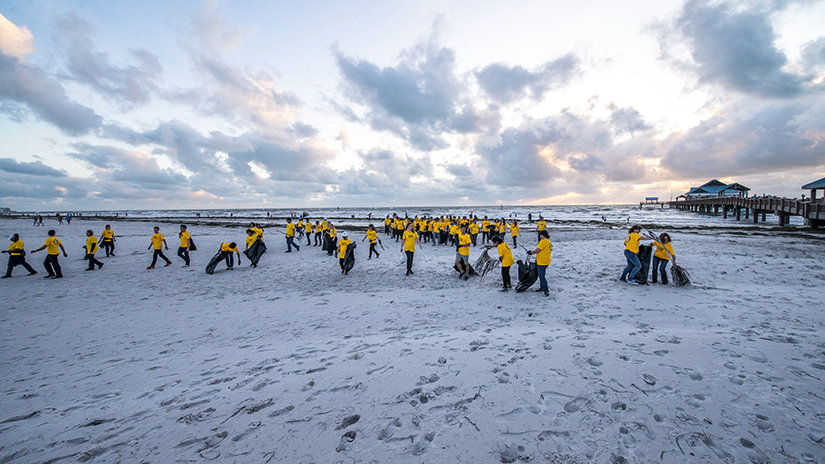 At Sharky's Beach Bar, the manager was touched by the yellow shirts: "I was inside thinking about all the stuff I have to clean up and when I looked outside I saw all these yellow shirts. It's amazing to see an organization do things like this for other people after a disaster. They were cleaning everything up."
Meanwhile, another team of VMs was busy organizing the heavy equipment, chainsaws and other tools needed for the giant cleanup endeavor. "It doesn't matter what it is that needs to get done, we just figure it out somehow," said Glendy Goodsell, executive director of the Scientology Volunteer Ministers of Florida. "We go to the area and find out what people need and want. For the Church staff and the parishioners living locally, our basic purpose is to help, because we're part of the community."
At the same time, VMs from Tampa, Miami and Orlando were mobilized to join the campaign. In fact, over 1,000 Florida-based VMs went to work identifying hard-hit areas and human needs statewide, organizing responses and arranging any form of help required.