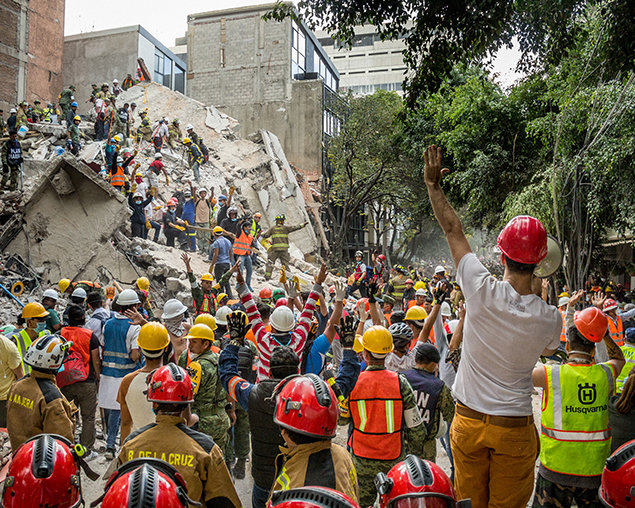 September 19 lives in infamy in Mexico. On that date in 1985, 10,000 died in the 8.0 Mexico City earthquake. That was also the day that Mexico's famous search and rescue team Los Topos (meaning "the moles" in Spanish) was born. Like their namesakes, Los Topos volunteers burrow underground. But these brave men also pull survivors out of collapsed houses and recover the bodies of the dead. Exactly 32 years after the 1985 quake a 7.1-magnitude temblor struck, collapsing more than 40 buildings, killing 333, injuring some 4,000.
Los Topos, who have partnered with the Volunteer Ministers since the 2010 Haiti earthquake and at major disaster sites since then, were among the first responders when the Central Mexico Earthquake hit. Topos founder Héctor Méndez immediately named the Church of Scientology Mexico as the group's earthquake response headquarters. Working around the clock, the Topos pulled 26 people out of the rubble alive, including three children at the Enrique Rébsamen school.
Soon the Church became the base for all search and rescue personnel from EMTs to police, "bomberos" (firefighters) and military personnel, with over 1,000 Volunteer Ministers serving there and at some 90 sites.
Los Topos instituted their standard drill for the search and rescue phase—8 hours on, 2 1/2 off, grab some food and a nap and back to the disaster site. But cars and trucks couldn't make it through the rubble-filled streets, so a fleet of Volunteer Minister motorbike riders formed up to ferry Los Topos and other search and rescue teams back and forth.
A constant flow of donations, 55 tons to date, poured into the Church, from shovels and picks to food, water and baby care products. As soon as the goods arrived, Volunteer Ministers distributed them to rescue workers and those in need.
Volunteer Ministers are still on the job, backing up the first responders, distributing food, water and supplies, and providing trauma relief to those who lost their homes and loved ones, using Scientology assists, techniques developed by Scientology Founder L. Ron Hubbard that are the mainstay of the Volunteer Minister program. Not only can something be done about it, in Mexico City it is being done and will continue as long as needed.