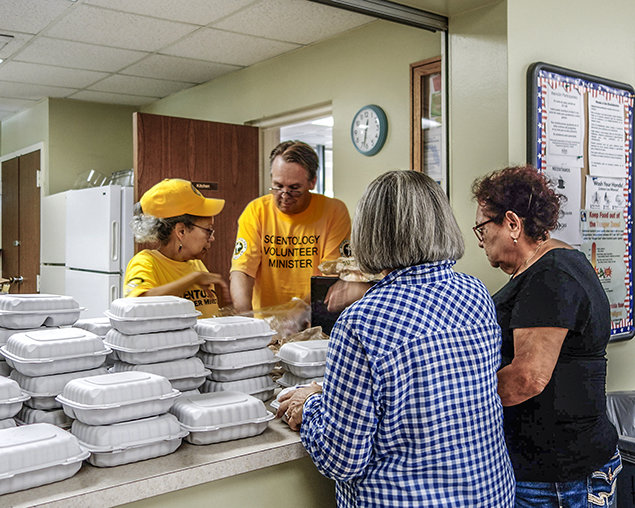 "I am not leaving. I'll be here helping till you guys close," Scientology Volunteer Minister Blanca Miranda assured the staff of the Dunedin Community Center shelter. Miranda is one of 130 Scientology VMs who volunteered in Pinellas County shelters during Hurricane Irma.
The VMs performed whatever tasks were needed to ensure the shelters operated smoothly for the hundreds of thousands of Pinellas County residents under the largest evacuation order in county—or state—history.
Volunteer Ministers also distributed hygiene kits to 10 county shelters before, during and after the storm, supplying shelter refugees and staff with toilet paper, wipes, toothbrushes and other hygiene necessities.
When one shelter ran short of blankets and food, VMs rapidly replenished those items. VMs working at Dunedin Community Center shelter helped procure an extra generator to keep oxygen machines running for special needs refugees.
The Volunteer Ministers worked hand in hand with staff of the Florida Department of Health (DOH) and ER personnel who manned shelters throughout the storm. From organizing supply lines to maintaining a census of refugees, the VMs brought great organizational skills to the task.
Once Irma passed, VMs continued volunteering in two remaining public Pinellas public shelters, helping break down cots, transport refugees and even cook meals for shelter staff.
Twenty VMs assisted at Pinellas Hope Homeless Shelter, where 250 homeless men and women were evacuated during the storm. VMs helped clean Irma debris from Pinellas Hope's "Tent City" and mobile homes and helped the men and women move their belongings back into their tents and mobile homes when it was safe and Irma had passed.