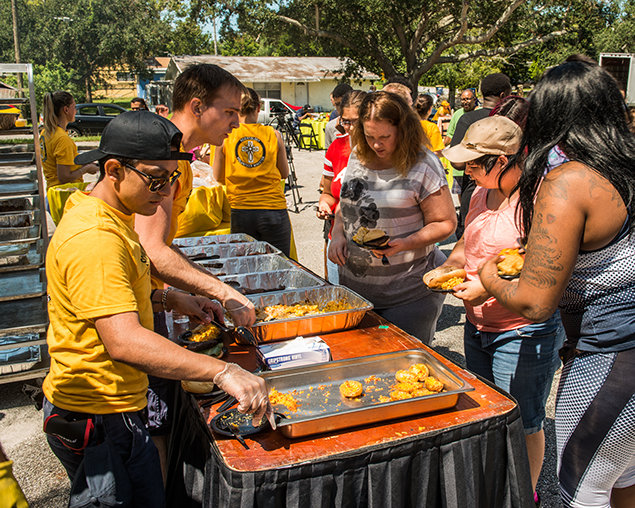 Hard work and long hours—that's the life of the VM working disaster relief. But it's all worth it to look into the thankful eyes of a North Greenwood mother who brought her five hungry children for their first warm meal in three days at a special VM ice and barbeque event outside the MLK Jr. Community Center. The meals were "a blessing from God and you people in these Scientology Volunteer Minister shirts are the angels," she said. "I don't know what we would have done without this, because it's getting too hot to not have some ice and something good to eat and you are helping us get back on our feet."
VMs served barbequed ribs, burgers, hot dogs, fruit and cold drinks, more than 1,700 meals, to North Greenwood residents, while also distributing 3,000 bags of ice in the community. Every store in town was out of ice that day. What gives? "Contacts," said VM executive director Glendy Goodsell, who managed to find everything from water to chainsaws somewhere in the country and have it shipped to Clearwater. "We've got great contacts everywhere."
From Cherry Harris Park and down Martin Luther King Jr. Avenue, VMs helped residents clean Hurricane Irma's aftermath from streets and yards. Many residents jumped in to help the Volunteer Ministers clear their streets.
The VMs continued to provide hot meals every single day, in the thousands, for almost a week in North Greenwood until the power was restored.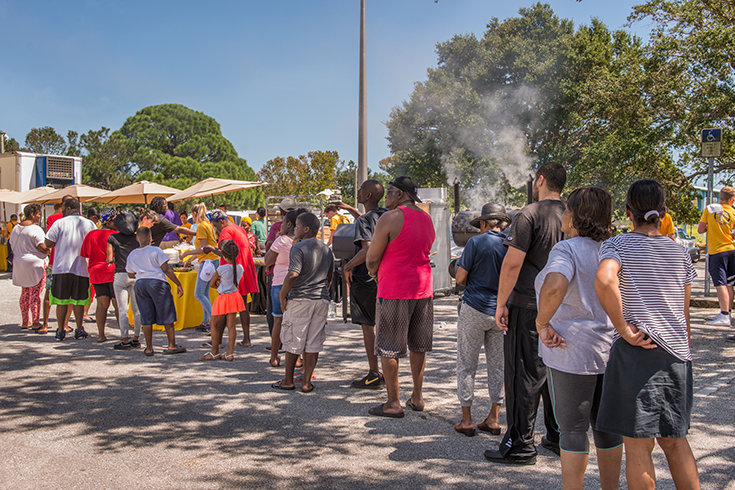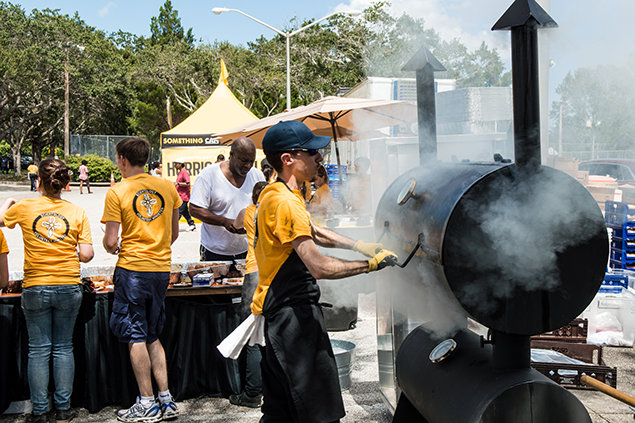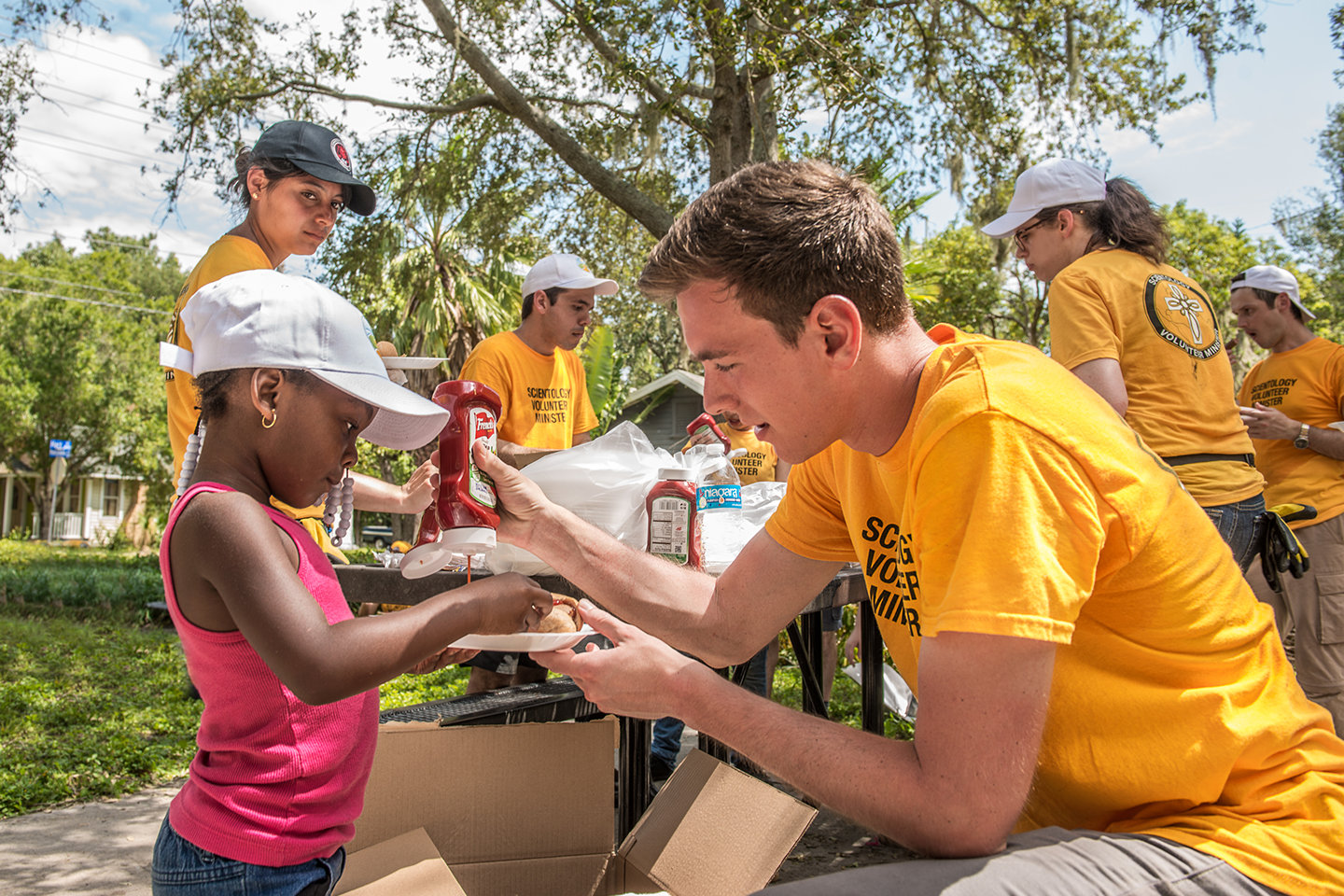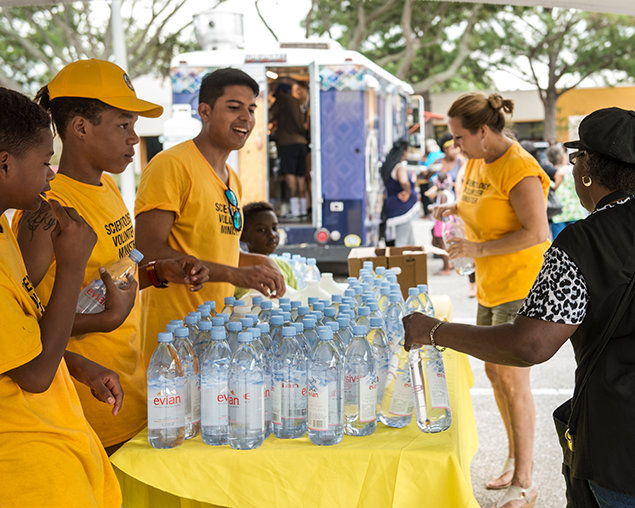 The thought was on everybody's minds: I'll never take ice or water for granted ever again. The Volunteer Ministers maintained a continuous distribution of precious ice and water outside the MLK Jr. Community Center in North Greenwood and in the East Gateway district. They also deployed food trucks serving crêpes, pizza, hot dogs, flavored ice and empanadas to hungry North Greenwood and East Gateway residents. Long food truck lines zigzagged across the MLK Jr. Community Center parking lot throughout the week after Irma.
"We'll keep coming out here till the power comes back on," said Florida VMs Executive Director Goodsell.
Word of the food trucks and ice sponsored by the Scientology VMs spread throughout the state. One desperate mother drove three hours from Naples with her children to the East Gateway ice distribution site after hearing about the VM hurricane relief efforts on social media. Another VM team of six was dispatched to set up an ice and water distribution pod in Fort Myers, near a shelter in dire need.
North Greenwood community leader O'Neal Larkin also visited the food trucks to gather ice and food for homebound elderly North Greenwood residents. "I keep telling people this is not a party. This is a relief effort and a relief. They appreciate all that you guys are doing for our community," Larkin said.
"I'm seeing a lot of people from within the community come out here that I haven't seen for a long time and that's really what this is all about," Larkin said. "People aren't squabbling when they're here. There's no fighting when they're here. You know we appreciate it because you see these guys patiently waiting in line for the food and ice. Without you guys, we'd have been roasting this whole time."