The Clearwater Community Volunteers have been providing food, toys and entertainment to Pinellas County families in need since 1992.
Time. That intangible resource that is forever slipping at an unstoppable pace into the past. Minutes, days and years ticking by. The Clearwater Community Volunteers (CCV) understand the urgency of time. CCV activities amount to investing in another aspect of this valuable resource: the future. To be precise, and to bring it home to Pinellas County, that's the future that rests in the hands of thousands of local kids.
"I think it makes a difference when kids see someone wanting to make the world a better place for them," one volunteer said, "someone who doesn't even know them."
Founded in 1992, CCV has worked for years on events and fundraising to help local children so they can envision a better life and make constructive contributions to the future of a world that—let's face it—is badly in need of constructive ideas.
CCV is run by a team of local Scientologists, including President Pam Ryan Anderson.
Over the years CCV volunteers have grown to number in the hundreds, clocking annual volunteer hours in the thousands. Today CCV's extended volunteer network is made up of Scientologists and members of other denominations working together on projects to bring assistance to thousands of kids in the Clearwater community and beyond. The group has fundraised and donated hundreds of thousands of dollars to local children's charities.
"Volunteering has changed life for me and those I work with in ways I cannot describe," said Ryan Anderson. "I can't think of anything better to do than be out there helping, particularly the children … This is a very important part of life for me and of being a Scientologist."
Speeded-motion year
CCV's 25th year, 2017, was a fast one, in which the group pulled off three major events and four or five additional ones. One major project to present is the CCV's Giant Easter Egg Hunt, which also had its 26th birthday in 2018.
"Volunteering has changed life for me and those I work with in ways I cannot describe. I can't think of anything better to do than be out there helping, particularly the children."
Pam Ryan Anderson
CCV President
Although they may seem simple enough, preparations for the annual Easter Egg Hunt are challenging because of the tight timing; most setup and takedown happens within the same 24-hour period.
As a licensed contractor, Herb Shaw's skills make him a regular on the CCV crew. His favorite CCV event is the annual Giant Easter Egg Hunt, because of the horseback rides for the kids. For several years he and his horse Wrangler provided rides. "It's a long day, ten to five," Shaw said. "But Wrangler outlasted me, and didn't protest a bit."
Why does Shaw do it? "Giving back … I see happy kids there, and that's what I like. That's my reward."
"Our families don't get to see us on Easter," said volunteer Steve Bibeau. "They come to the event, but they don't see us again till late that night." Bibeau is a northeast Clearwater resident, project manager for a construction company, who has been a volunteer for a dozen years or more.
Get set … go!

Thousands of children, thousands of plastic gift eggs, pony rides and more! A celebration of life at Giant Easter Egg Hunt 2018.
Preparations for the 2018 Hunt began weeks in advance. Volunteers purchased supplies and provided them to local schools whose students filled plastic eggs with candy as volunteer projects. On the Friday afternoon before Easter, setup volunteers borrowed a box truck, with driver from PostcardMania, Inc. of Clearwater, to go to the CCV warehouse and load in the event paraphernalia: a train, bouncy houses, the enormous volume of candy-filled eggs, foods, decorations, and a dozen pop-up tents and chairs.
The rest happened in a rush: early Easter morning, volunteers arrived with the truck and worked double-time to set up tables and tents, grills and food, face-painting stations, a petting zoo, the ponies for rides and the food wagon. And, of course, to pave the park with thousands and thousands of eggs. Before their breathless tasks were finished, the kids had begun to arrive.
"It's a long day!" Bibeau said. Why does he do it? "To see how many families and children we impact, to give them a safe, fun environment to go enjoy Easter—just have a blast and run around."
Running around is the name of the game, without a doubt. When the 2018 Giant Easter Egg Hunt began, the central lawn at Coachman Park, near the Clearwater Marina, was thickly blanketed by thousands of brightly colored Easter eggs and bordered by almost 8,500 eager treasure hunters in spring colors. The vibrating, fidgeting youngsters, released by the GO! signal at 12:30 p.m. sharp, swarmed onto the field, zigzagging and snatching eggs as they ran. Within a few minutes the kids had harvested about 30,000 goodie-stuffed plastic eggs and the lawn was green again, as if a large vacuum cleaner had swept it clean.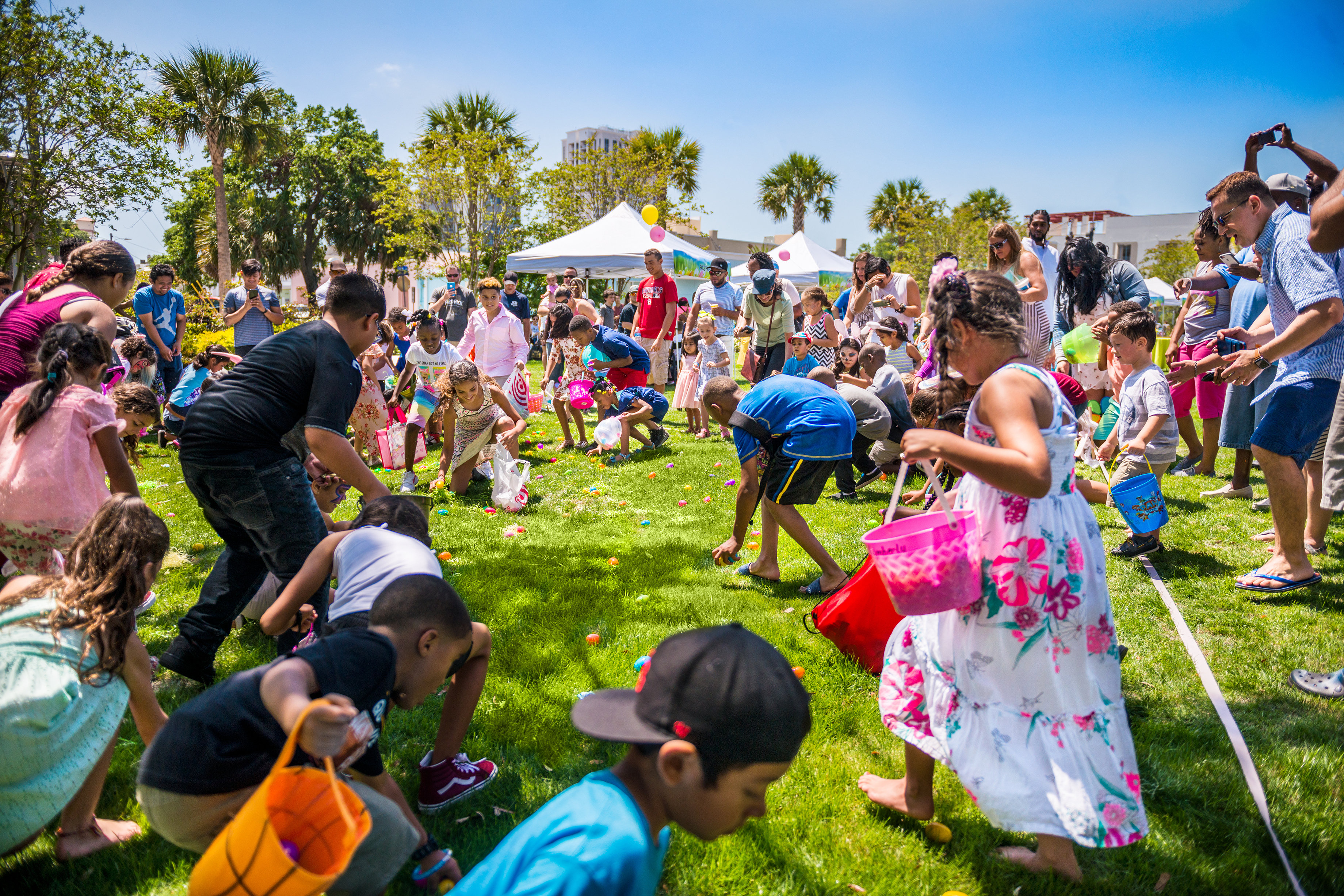 Fashions with Flair—Role Models at High Tea
Slightly detoured but unstopped by Hurricane Irma, indefatigable CCV volunteers produced their second major annual event of 2017, Fashions with Flair, in the Fort Harrison Auditorium on October 8. The event included a silent auction, a high tea that inspired fancy hats and dress and ramp modeling. "We invite women who are not models, but each notable in her own right," said CCV Chairperson Joanie Sigal.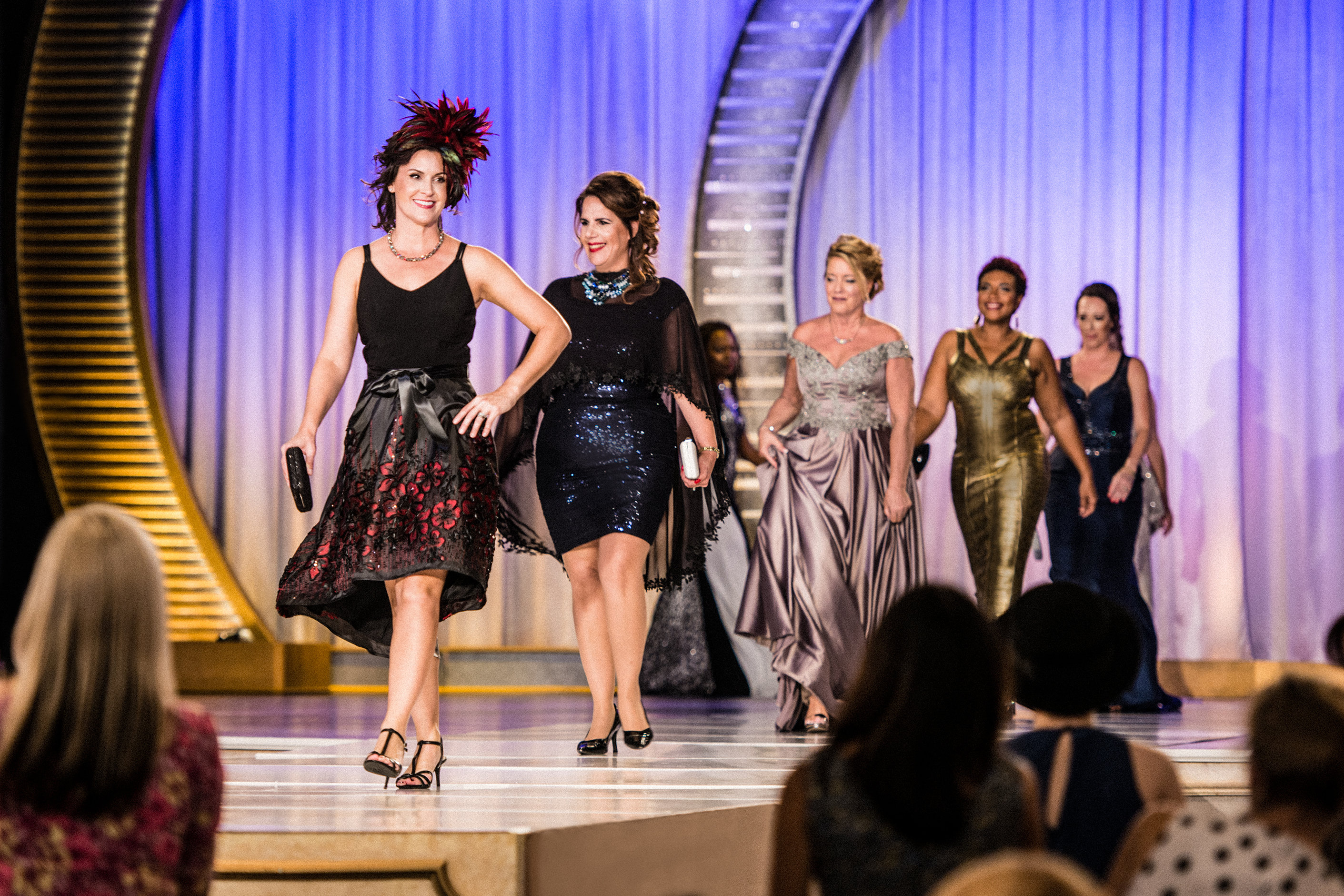 "We invite women who are not models, but each notable in her own right."
Joanie Sigal, CCV Chairperson
In past years Fashions with Flair has benefited an assortment of children's charities. At this, its 15th annual fashion show, CCV raised funds for the Lealman Police Athletic League (PAL) and Winter Wonderland.
This year Daniela Nessen of CCV managed the silent auction that is a popular feature of the fashion show. A Dunedin mother of two and office manager for a local company, she said that the Fashions with Flair auction alone involves months of work gathering donations, then cataloging and presenting items and services to be auctioned off—items ranging from Disney World and Sea World tickets to a piano or a diamond, to artist/artisan items like paintings, pottery or scarves.
Nessen volunteers with CCV because the work permits her children to be with her and help out as well. And because of CCV's purpose, "If you can do good for the next generations, you benefit from it eventually, because they make good decisions, they become good leaders, they can think for themselves."
Winter Wonderland— Building the North Pole Village
Going back in time, early on Saturday, November 4, 2017, at a warehouse on MLK Jr. Avenue, it's "load-in weekend." The third and final event put on by CCV for the year, they are preparing for the grand finale—Clearwater's 25th annual Winter Wonderland. About a dozen volunteers are working quickly in the cool morning air, hefting and forklifting crates, slabs of wood and sections of structure out of the warehouse onto trucks, trailers, flatbeds—to be hauled to Osceola Courtyard at Fort Harrison Avenue and Drew Street for unloading.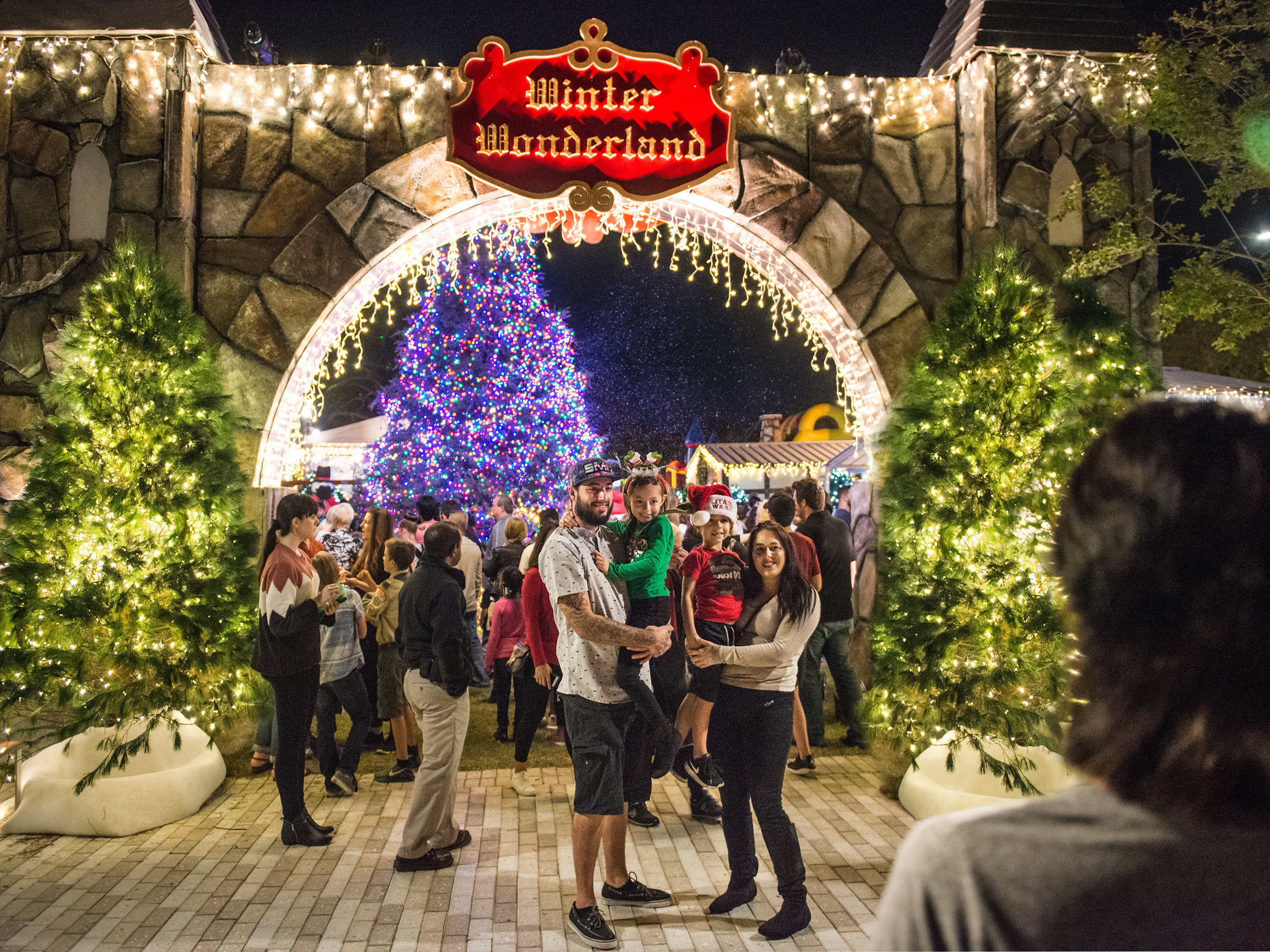 "If you can do good for the next generations, you benefit from it eventually, because they make good decisions, they become good leaders, they can think for themselves."
Daniela Nessen, CCV
A bright yellow Hummer with a trailer pulls up in front of the barn-like door; Clearwater resident Bob Kenne has arrived to pick up a load. He says Winter Wonderland is his favorite annual event, and his folksy twang is a good disguise for his secret identity: Santa Claus.
Why does he do it? He says one girl, after seeing Santa, visited Mrs. Claus' House, decorated an extra cookie, and brought it to Santa Claus as a gift. And a boy got a book, wrote his name in it, then presented it to Santa. Kenne explains, "Seeing Santa created such an effect on them that they wanted to go do something and give back to Santa. It just doesn't get any better, you know?"
Joel Anderson, also a member of CCV, is seen running a fast forklift in and out of the warehouse. A Clearwater industrial steel fabricator and erector, Anderson spends many of his non-business hours as No. 2 in command of the Clearwater Community Volunteers (CCV). He joined the group 20 years ago to help construct and deconstruct Winter Wonderland, and he has worked on every major project since then, logging 400 to 500 volunteer hours a year. Anderson says that with Winter Wonderland, "you really get to create something that can be enjoyed by people of all ages."
Why does that matter to him—especially 400 to 500 hours' worth? "When that first little kid who otherwise might not have any Christmas at all comes and sits on Santa's lap—now that's why I do it. It's a reward that's greater than any money can buy."
Opening Night
There was a little tang to the air that night, December 2, opening night for the 25th annual Winter Wonderland.
Osceola Courtyard, transformed by the Church of Scientology from an abandoned Checkers site in 2015, had been further transformed by CCV into a magical village that was separated from ordinary life by 77 Christmas trees strung with little blue and yellow lights. When the lights switched on, an enchanting snow began to fall.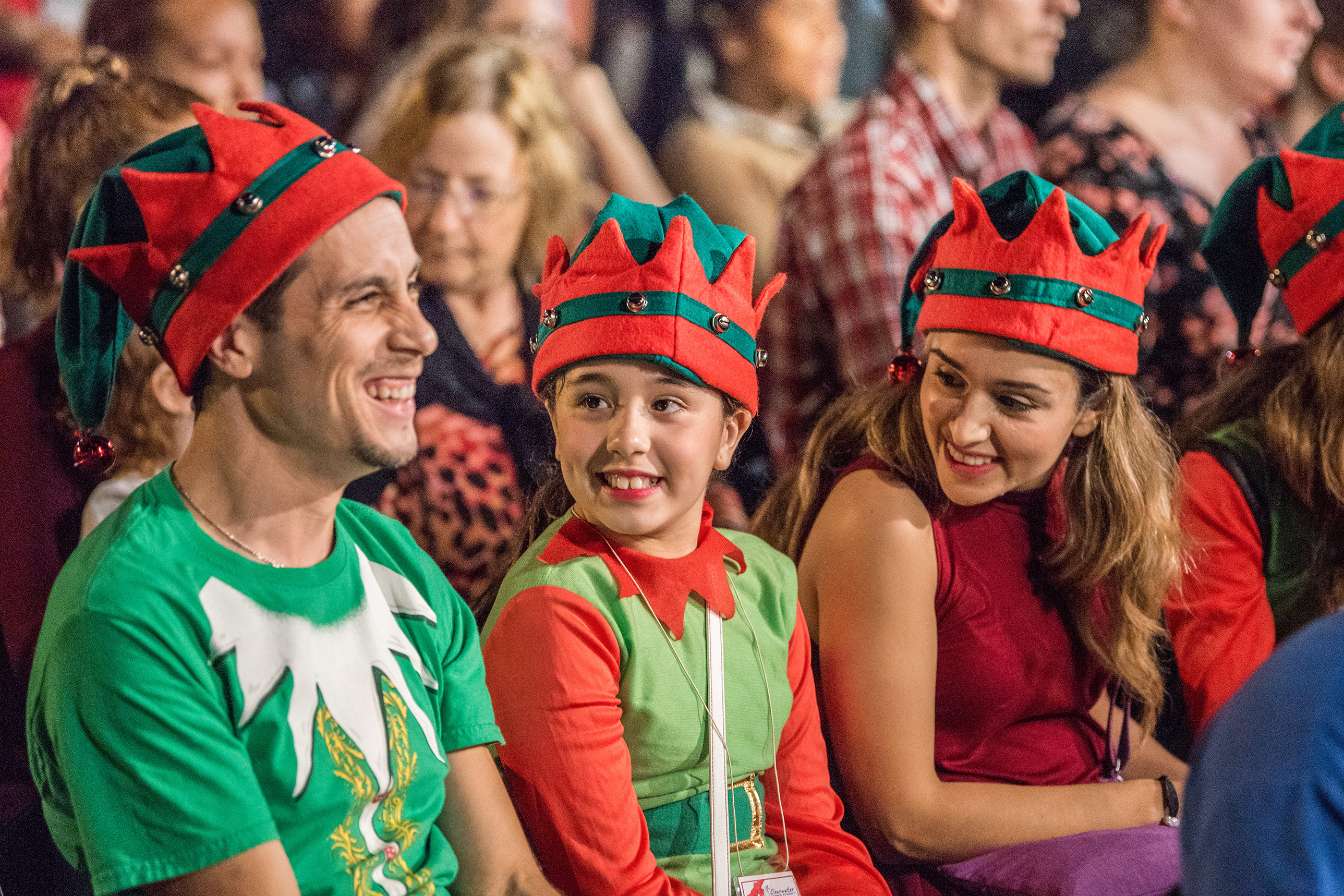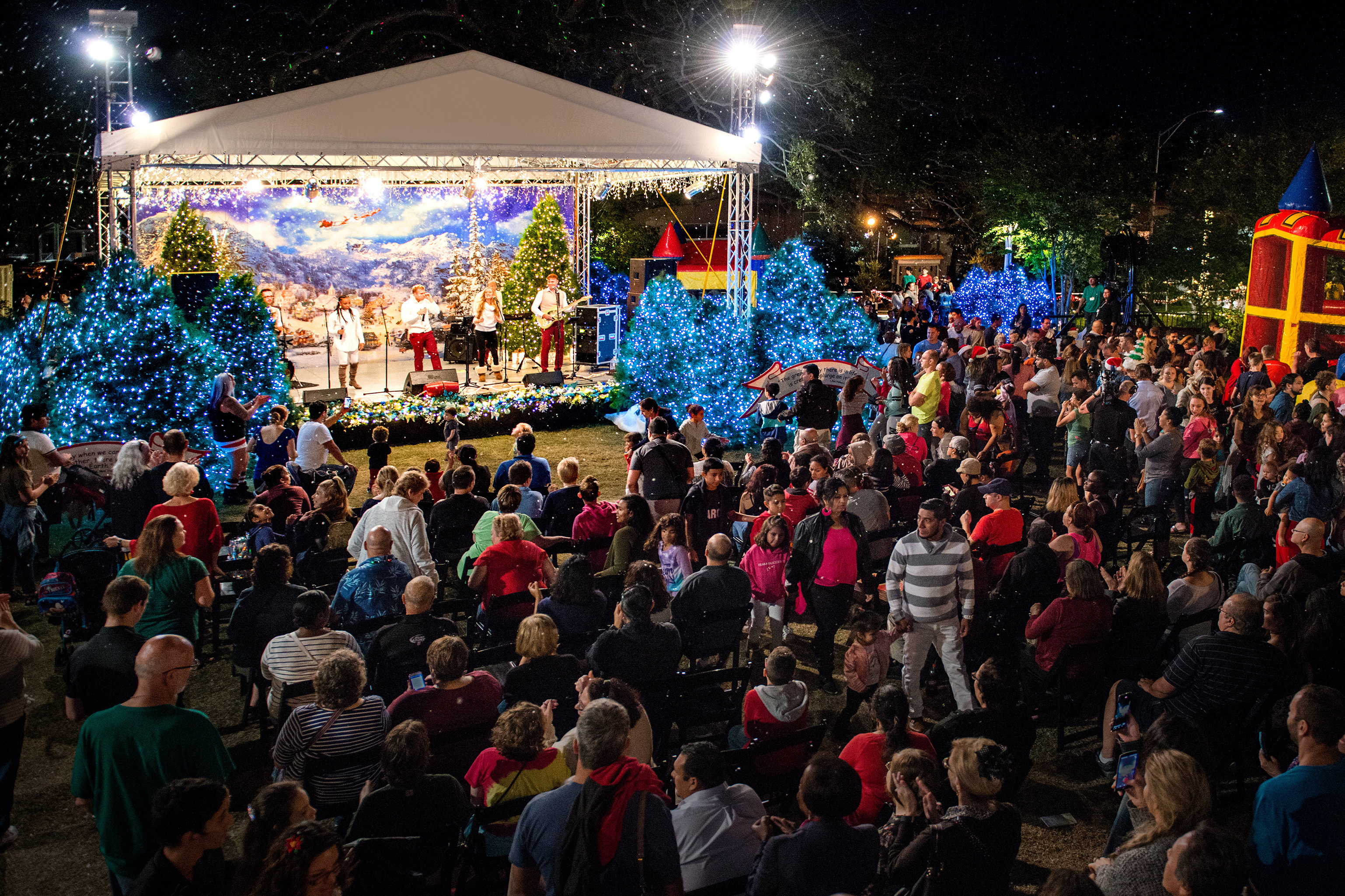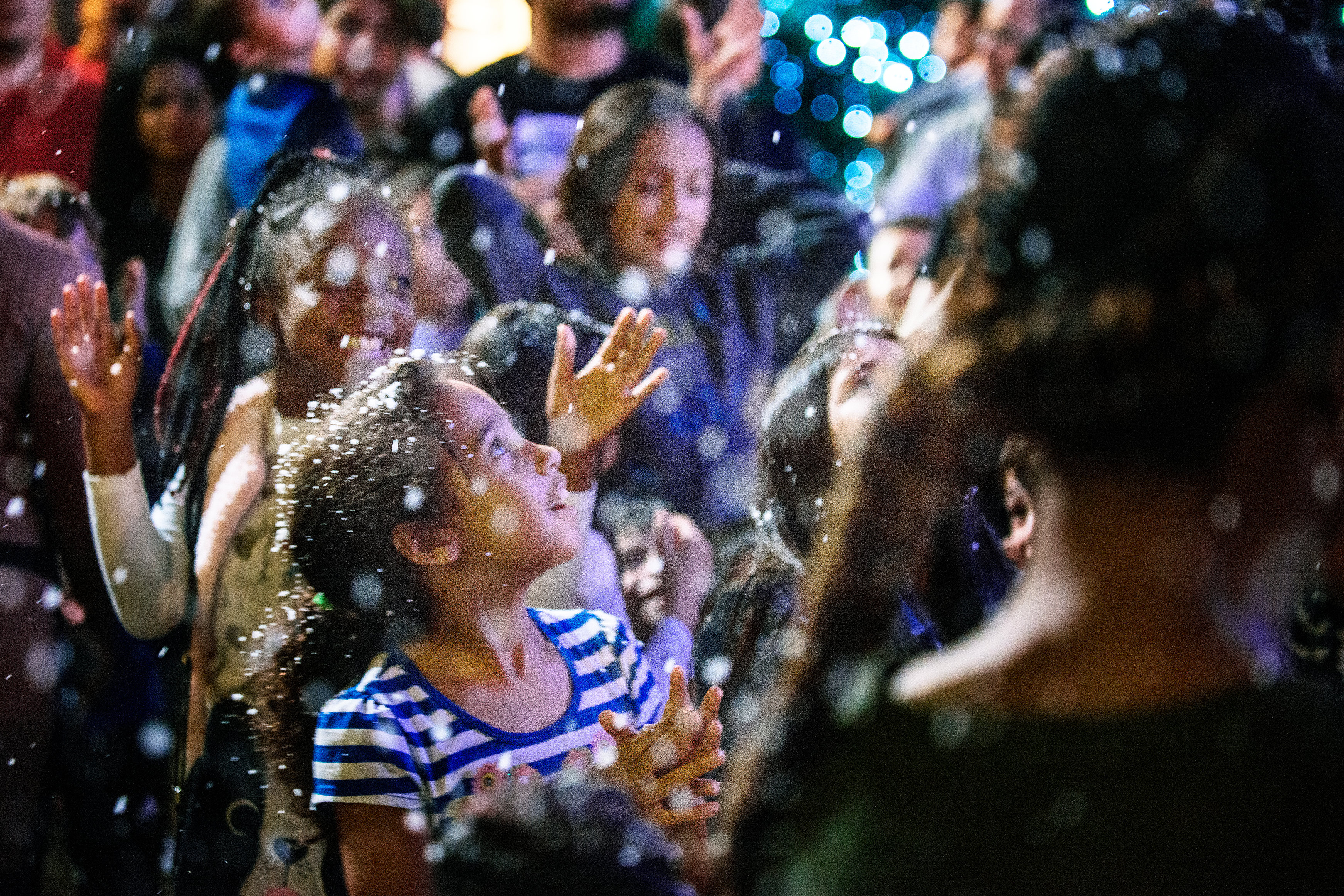 Family Fun

Families, including kids of all ages, gathered round for some heartwarming, foot-stomping entertainment and—what do you know—some snow.
All across the lawn, children filled the attractions: two bouncy houses, a 20-foot slide and a gyroscope, a playground, pony rides, a petting zoo and the Winter Wonderland Polar Express. Thirty to 35 volunteers stood by to act as spotters for the rides, as cooks and cookie-bakers, elves and stage crew.
Winter Wonderland continued for about 18 days and closed shortly before Christmas. By closing day 2017, more than 10,700 people had visited from all over the Tampa Bay Area, bringing the total count of visitors, since its inception in 1992, to more than 230,000.
Daniela Nessen said, "It doesn't necessarily mean you have to be a Christian to come and celebrate at Winter Wonderland and to have fun. From every faith everybody is welcome, and they can just enjoy it.
"Some families come every night because it's such a safe play environment. They can enjoy the playground, watch the entertainment and eat some good food if they want, all at very little or no expense."
The village was opened one afternoon just for special-needs and disabled children; each one of those visitors received a present.
"Invitations are extended every year to underprivileged children so they get to enjoy a touch of Christmas," said Anderson. "We try to make it as memorable for them as possible. I remember one mother came and found me and said, 'You may not know this, but you are creating lifetime memories for these kids who wouldn't otherwise get them.' This statement alone makes all the work worthwhile."
For the Clearwater Community Volunteers the last 12-plus months ticked past at record-breaking speed. Moving ahead into 2018, the momentum is not slowing down. How they pull off so much each year may be a mystery, but the reason for their nonstop work is not. "My favorite thing is watching the kids—the utter and complete joy they have on their faces," said a CCV volunteer. "It's an amazing purpose, helping future generations—the kids. That is how we make a difference."
To find out how you can participate in future events call (727) 316-5309 or email the new Clearwater Community Volunteers Center directly: ccvdirector@ccvfl.org