Freedom magazine also played a part in the action. Tonya Lewis, founder of local nonprofit Children with a Vision, shared the September 2017 Hurricane Irma Special Edition with another community leader. After finding out about the Scientology Volunteer Ministers and their expansive clean-up and relief activities in the wake of the major storm, that individual wanted them to come to the Tampa Bay's Black Heritage Festival with a booth.
Come they did. The Volunteer Ministers (VMs) set up shop and started providing assistance to those inquiring—giving assists, a Scientology process designed to alleviate present-time discomfort, sharing information, and letting others know that "Something can be done about it."
Not only was the VM team able to help point the attendant community members in the direction of solutions to everyday problems, they also met the Tampa Mayor Bob Buckhorn on his rounds through the festival. He was informed of the Volunteer Minister program and the work that was done after Hurricane Irma.
"While we have our Florida headquarters in Clearwater, the Volunteer Minister disaster relief efforts operate on an international scale," said Glendy Goodsell, executive director of the Volunteer Ministers of Florida. "When Hurricane Irma came through, it was disaster in our own front yard. We've been handling disasters across the United States and beyond for years, so we knew exactly what to do to get the community back on its feet again." Buckhorn applauded the group "for what you did for the community."
VMs don't just do disaster relief—they do relief every day. Once a week you can see teams of yellow shirts fanning out across local communities doing cleanups to improve morale. On one recent cleanup, on January 13, a group of three dozen volunteers gathered armed with trash pickers and plastic bags to rid the East Gateway community of empty cans, bottles, dirty diapers and more. The volunteers, ranging from 8 years old to over 50, gathered 35 bags of trash in one morning. They received words of appreciation from neighbors and pedestrians passing by. Others honked their horns and waved to say thank you.
The Scientology Volunteer Ministers Center Florida on North Fort Harrison Avenue is open every day of the week to provide solutions for all disasters, big or small.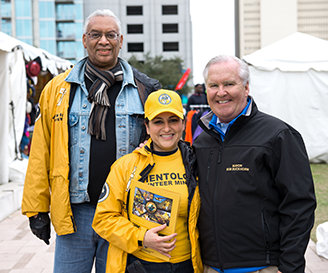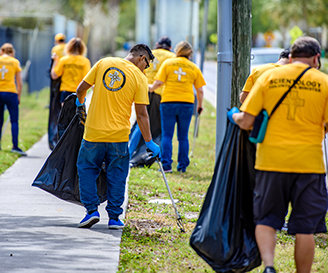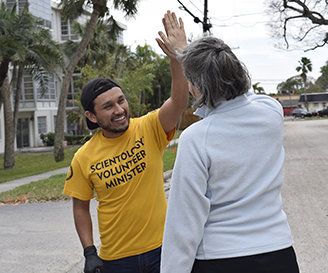 Bringing Help

Clearwater Volunteer Ministers deploy throughout the Bay to bring relief and order, including in Tampa, seen with Mayor Bob Buckhorn (left).