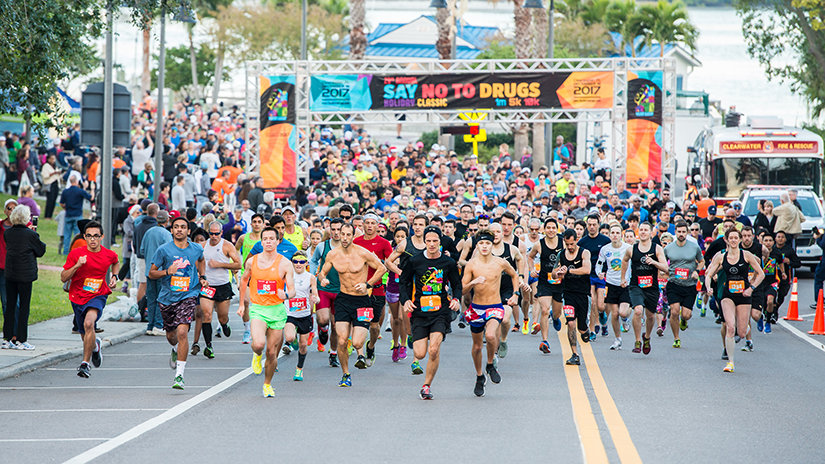 With the disturbing statistics for youth and adult drinking and opioid abuse, a local group sponsored the 29th Annual Say No to Drugs Holiday Classic in December 2017. There 2,187 runners participated. They ran, walked or trotted in support of living a drug-free life, eager to give their energy to the message that running is more fun than drugs, and being healthy is more fun than being a statistic. First Place for the 5K (just over 3 miles) was taken by a 15-year-old boy, who clocked in at 17:29.
They kicked up their heels and ran for the 5K or the 10K finish line, while the kids tore through their own one-mile race.
Is there really a substance abuse problem in Pinellas County? Yes, by normal standards, which define substance abuse as overindulgence in or dependence on addictive substances, especially alcohol or drugs, like opioids. For example, a popular local form of overindulgence is binge drinking, which brings a person's blood alcohol concentration to 0.08 percent or more. It's the most common pattern of excessive alcohol use in the United States today, and in Pinellas in 2015, 19.6 percent of all adults were binge drinkers, in comparison to the 2013 state figure of 17.6 percent. Add to that the number of non-adult drinkers, then consider the grim fact that alcohol causes four times the number of deaths than drugs cause, the situation needs improvement to make Pinellas a safer area for kids and families.
The number of drug-related accidental deaths in Pinellas in 2015 was 179, of which 98 (55 percent) were related to prescription drugs. The Sheriff's Office took action, starting Operation Medicine Cabinet, to help residents dispose of unused drugs—an operation still in use today.
And then there was action in the form of the Say No to Drugs Holiday Classic, where it was all about fast and the runners gave it all they had.
"Our goal is to spread the positive message of 'Say No to Drugs' to as many people as possible," said Sue Minkoff, a race director who partners with Foundation for a Drug-Free World to get out the word. "It is especially important for us for this message to get to the younger generation—as they are the future—and we don't want our future on drugs."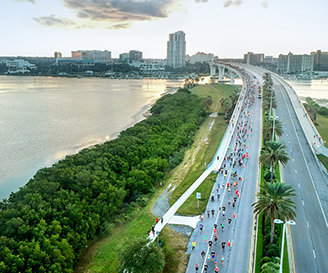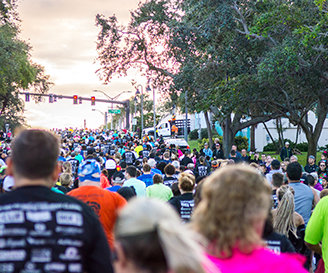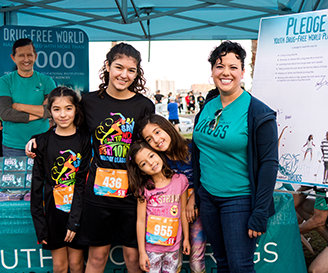 Sports Tourism

Runners from all over Florida and beyond compete every year in the Annual Say No to Drugs Holiday Classic.