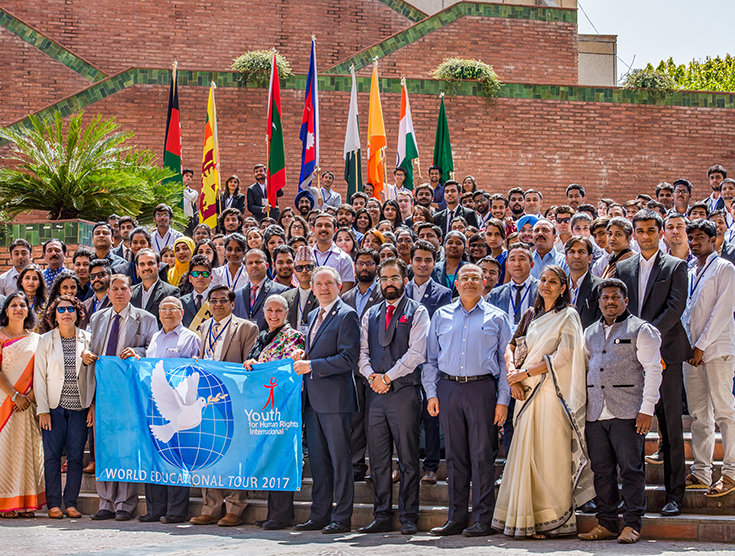 Since 2004, Youth for Human Rights International (YHRI) has reached more than 10 million people through the organization's annual World Educational Tour in community centers, schools and universities in both large cities and remote areas of more than 80 countries.
The goal is to inspire and teach youth about human rights so they become lifelong advocates for tolerance and peace. Aimed at increasing the understanding of human rights among youth as well as creating new YHRI chapters, these grassroots events often feature talks by high-ranking officials, including presidents, prime ministers, ministers of education and U.N. officials, who discuss the importance of human rights education.
The 2017 tour kicked off in New Delhi, then traveled 45,000 miles—through Israel, Ireland, Mexico and Taiwan—before concluding in Washington, D.C.
The New Delhi leg of the tour marked YHRI's fifth South Asia Regional Summit, a grouping of nearly 200 participants that included students from across India as well as neighboring Bangladesh and Nepal. In attendance were government leaders, law enforcement officials, educators and representatives of nongovernmental organizations.
During the three-day summit, YHRI members mentored each other and attended seminars on topics designed to help improve their local activities. Individuals and teams were also lauded for their work in promoting human rights.
In Israel, YHRI members initiated a grassroots movement aimed at resettling non-Jewish refugees who fled civil wars in Africa from 2006 to 2012 and find themselves unwelcome in the country. Youth activists met with a Sudanese asylum seekers group and workers at an Eritrean women's community center. YHRI has been invited to meet with top-ranking Palestinian officials in the near future.
Helping resolve the refugee crisis was also on the tour's agenda in Ireland, where immigrants from the Middle East have faced a significant backlash.