Before they were introduced to The Way to Happiness in Zambia, an impoverished African nation, the people had lost the will to work together for a common purpose. They were focused on their own individual survival and were not searching for solutions to the widespread poverty and hunger that challenged their survival on a daily basis. It's easy to see why. The life expectancy in Zambia is only 62, and a history of hunger, illness and lack of education has meant attention to moral codes has had to wait.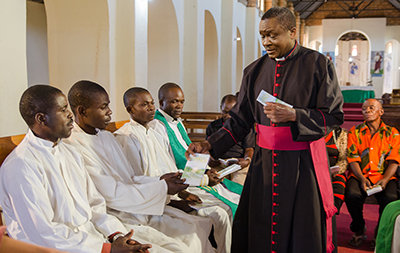 But since The Way to Happiness was introduced, thousands of Zambians and their families have begun to live more ethical, productive and responsible lives.
They owe it to Father Teddy Sichinga, an Anglican priest who uses The Way to Happiness to improve the lives of impoverished Zambians one person, one village, one parish at a time. "The Way to Happiness materials are very useful for the families in my parishes," Father Sichinga said. "They are written in a simple manner that is easy to understand. I started using these materials because they are very valuable for everyday life. We have a lot of human need here, and these tools address that need so that they can uplift themselves."
Teaching and helping others is second nature to Father Sichinga. He held a teaching degree before he decided to become a priest, and he combines his academic and spiritual aptitudes when he brings The Way to Happiness to his congregations. His success was noted by Anglican Church leadership who appointed him Diocesan Training Chaplain. In this trusted role, he trains others on the precepts in The Way to Happiness and gives fellow preachers advice on incorporating them into their sermons. He also provides guidance on setting up local groups.