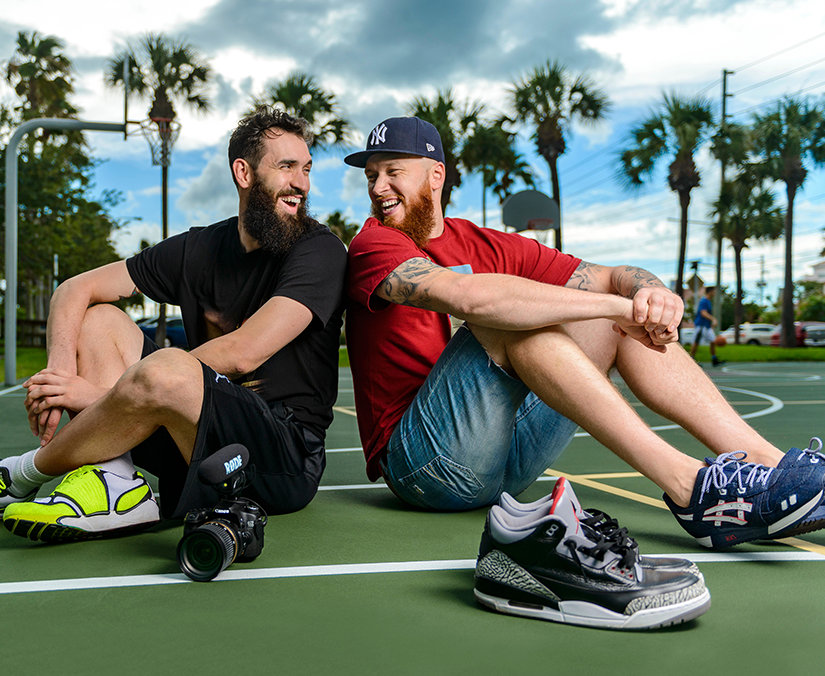 Brothers, both tall, both bearded and both with a mischievous sense of fun that is attracting a half a million YouTube subscribers worldwide, have found a home in Clearwater.
Known online as Mr. Foamer Simpson and Young Buckets, Mike and Charlie Lytle have brought their eclectic business to Clearwater's Cleveland Street.
"My brother and I mainly focus on creating cool things and working on projects that we think are cool," says Mike Lytle, who spoke for the brothers. "The mainstay and what most of our work and videos revolve around is sneakers and fashion."
This has included videos covering topics such as "What Can $100 Buy You at Nordstrom Rack" and "Best Thrift Haul Ever."
Most of these videos are produced in Clearwater and feature some familiar places—the Clearwater Mall, and both downtown Clearwater and Dunedin get shout-outs.
"I love Clearwater," says Lytle. "My family has been in Clearwater for a while. I don't think I'll ever leave. I mean, who doesn't like palm trees and good weather?"
Having fun, creating popular videos and enjoying the weather isn't all that the Lytle brothers are up to.
"We are big on contributing to the community," says Lytle. "We have done a lot of back-to-school drives and worked with different churches of many different denominations. We have donated hundreds of sneakers to kids.
"Actually, I carry a trunk around in my car full of sneakers, and if we see a kid sitting on the side of the road who looks like he needs a new pair, we stop and give him one. A big part of what we do is give back to the community.
"The good thing about Clearwater is that you are not slammed and jammed like you are in the big city," concludes Lytle. "You have space to create and grow. We love it here and are definitely in it for the long haul."