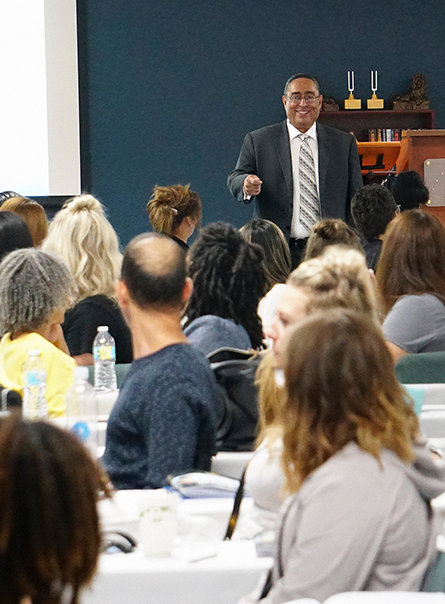 "Effects we hope to achieve, and are achieving with our work," says Luis Colon, CEO of Management Experts, Inc., "are first, improved prosperity by positively influencing the economy through productive organizations. Secondly, creating many job openings through these organizations, and finally, an improved society through individuals who then take leadership roles in improving society."
Since 1991, Colon has been providing a unique service in the field of dental office management. "We are the largest management training organization for dentists of its kind," says Colon. "We train clients on the Hubbard Management System as recognized by the Hubbard College of Administration International. It is result-oriented—our clients have built some of the largest dental offices in the U.S."
Colon continues, "People come from all over to see us here in Florida. We have people flying in every week to train. While in Clearwater, they use our hotels, food, shopping facilities, the beaches and everything else there is to offer.
"There are a couple of reasons we moved here to Clearwater," says Colon. "One was to be in a location I could bring clients to all year long with little interruption of services due to weather, and this was the best choice. Clearwater is a great place to come to. The beaches are the best in the country, the weather is great year-round—and people can arrive here from all across the country via three airports." The other reason, he said, "was more personal for me and my family as we wanted to be near the Flag religious retreat."
Colon employs approximately 70 staff in Clearwater of different races, faiths and ethnicities. In addition to work with clients, MGE has a number of outreach activities they engage in to give back to the community. They support the U.S. Marine Corps Toys for Tots and Toys for Tots Literacy Program as well as the Boys & Girls Clubs literacy campaign. "We've helped 2 million people with literacy in the last 5 years and are continuous veteran advocacy supporters," says Colon. He said MGE also encourages seminar attendees to find ways they can "uplift their communities," too.
Says Colon, "I have total certainty when I see these clients improving their office production and family life that their quality of life includes helping others."