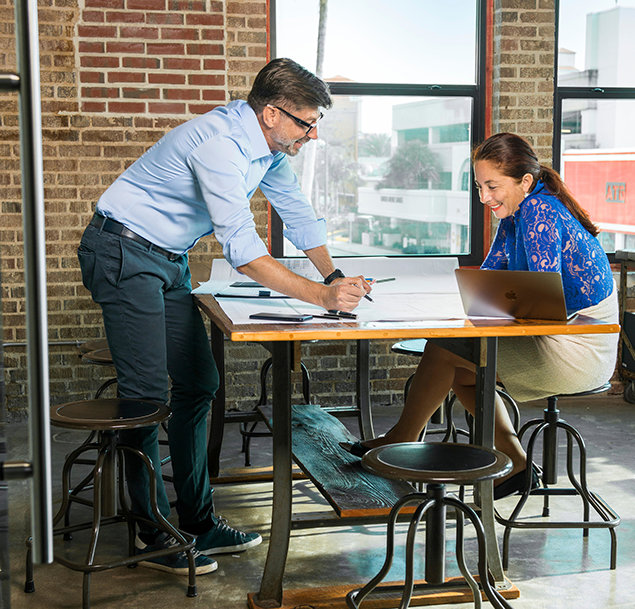 From a new company specializing in lighting for local yachts, Clearwater's Zaniboni Lighting LLC has grown like greased lightning in five years, this year providing a wide range of products across the country to clients like the Uber Headquarters in San Francisco, Google, Amazon, the Willis (Sears) Tower in Chicago and the TWA Hotel in New York City.
So, it's not surprising that Zaniboni Lighting recently made two prestigious "fastest-growing companies" lists: Tampa Bay Business Journal's Fast 50 and the Inc. magazine 5000 Most Successful Companies national list.
It is a fact that company president Fabio Zaniboni and his wife, Chiara (company CEO), could live anywhere. "I have lived and worked in over 40 different countries. I was looking for a nice place to settle a bit, start a few businesses and raise our three kids. Clearwater was the best option and indeed was the best decision I could have made," says the stylish, creative entrepreneur who has called Clearwater home for the past 12 years.
"I take over 120 flights a year traveling all over the world—and I love to come back to Clearwater, unwind by walking North Beach with the dogs or playing golf or tennis with friends and family at one of the many courses around town.
"Many of our employees fled their countries; I personally lived through two dictatorships, and I witnessed the horrors of war. I would like for my community to set the example of how beautiful and kind the world could be."
Zaniboni has founded two other innovative companies headquartered in Clearwater: the multilayered architecture platform BubblyNet Americas (with subsidiaries in Hong Kong and Italy) and Effective Lighting LLC, specializing in garden lighting. "We are developing, in downtown, innovative technology being adopted worldwide. As a company we are hiring incredible talent from around the U.S. and world (now over 70 staff), and the local community will grow richer."
When the Zanibonis decided to expand their company, they moved to one of Clearwater's former fire stations. They applied their creative skills to restoring the corrupted building back to its 1920s high-ceilinged rooms with handsome brick walls.
The Zanibonis also enjoy contributing to many charities: from athletic scholarships and Ronald McDonald House to St. Jude Children's Research Hospital.
"We feel passionate about supporting children because they are the future," says Fabio Zaniboni. "They will be in the world we leave behind for them."