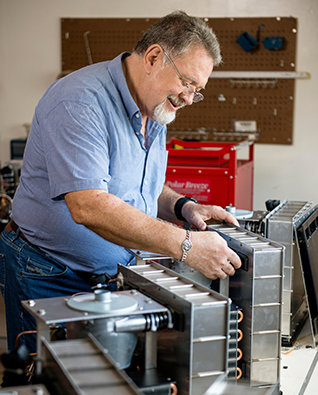 "I'm very committed to the hospital I work in," says Ralf Blackstone, who has been an anesthesiologist and certified medical doctor for 44 years. "What I want to contribute to this community is improved health and to continuously heighten the level of treatment that people receive."
Blackstone created a device called Polar Breeze. The device is designed to assist firefighters and athletes to rapidly cool their core body temperatures in just a few minutes, making it faster than other rehab methods used to alleviate the effects of extreme heat, which causes 8,000 deaths annually.
Blackstone started his new business locally with three people, including himself as the chairman and director of innovation. His wife, Jamie, is the CEO. "We're very committed to reducing the heat-related impacts on our firefighters and other people's health.
"I became a doctor because of my desire to help people. The idea to help was just always there and that's been my basic inspiration over the many years."
As to why Blackstone decided to put roots down in Clearwater, he says, "The weather in Clearwater is beautiful, and I like the people here too. This is where my Church is after all. I'm definitely most comfortable here compared to anywhere else in the United States."