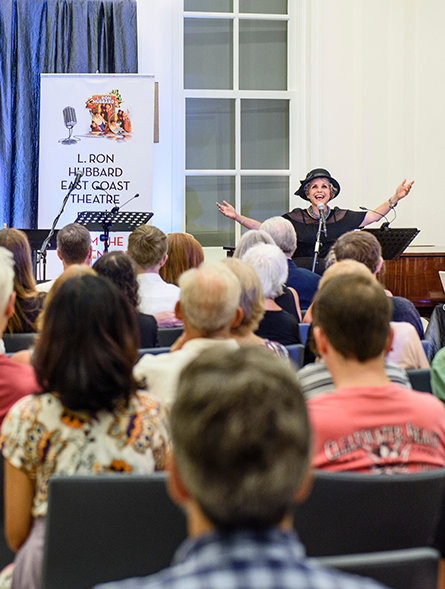 She is known to all as multitalented, possessing a broad range of knowledge and the ability to do almost anything with very little problem whatsoever. She finishes what she starts out to do.
For Clearwater, that is online marketing guru, vocalist, producer, podcast host and super community enhancer Joanie Sigal. Living in Clearwater since 1995, Sigal has continually volunteered for a number of causes: the Clearwater Community Volunteers, Clearwater's Downtown Development Board, Main Street Program, the Downtown Partnership and the Clearwater Jazz Holiday Foundation. Sigal is currently the education chair for the latter.
"What a lot of people don't know about the Clearwater Jazz Holiday Foundation is that it sponsors a lot of educational initiatives in the field of music," says Sigal. "We also give scholarships to kids planning to major in music in college."
A lover of music herself, Sigal performs with the L. Ron Hubbard East Coast Theatre group twice every month. Their performances have taken them from MacDill Air Force Base to performing for inmates at a prison in Miami. She is also the founder of the Clearwater Community Volunteers Fashions with Flair fashion show which has raised over $100,000 for charity.
"I also do a podcast with my husband, Steve, called 'Point of No Return' about the opioid crisis," says Sigal. The podcast has featured former athletes, former Florida Attorney General Pam Bondi and other officials, speaking up about the crisis and seeking to provide solutions to thousands of Americans suffering from addiction.
"We have had 120,000 downloads in some 100 countries from our podcast," says Sigal.
She shares a story of a man who called in from Wyoming. "He lives in the middle of nowhere and was hopelessly addicted, but in part, due to our podcast, he founded a support group with friends to help each other to get off drugs and stay sober," says Sigal.
Sigal works with anyone who wants to get the word out. "We just tell their story." She knows when she gets the calls back in she is making a difference.
"We're reaching people."