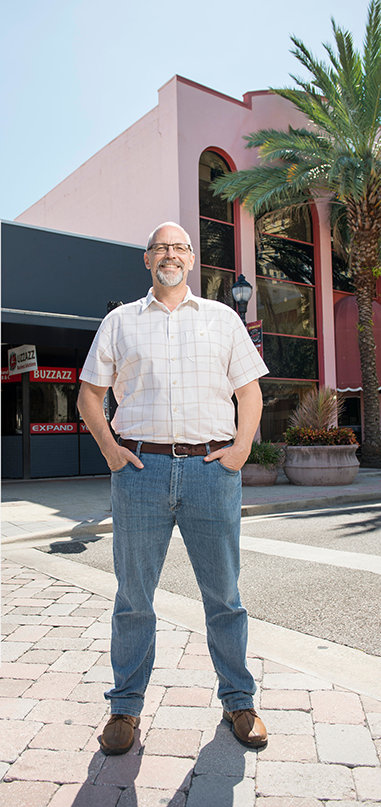 "In 1968 my father helped to build the largest direct sales organization in Chicago that has positively impacted millions of lives and produced billions in consumer goods sales. Growing up with that excitement, I knew at an early age I would own my own business," says Keanan Kintzel.
In 1987, after graduating college, Kintzel, with his father and brother, launched an aircraft brokerage company in Southern California. "Some 32 years later, having multiple successes and failures, I can proudly say, besides bartending my way through university, I've always worked for myself."
In 2005, Keanan Kintzel left the cold climes of the Midwest and moved to Clearwater. While the weather had its own pull, ultimately it was his religion, Scientology, that made Kintzel decide on the change. There was also his "beautiful Swiss wife" and their extended family of her three sisters and their families. He and his wife also have a young daughter.
"The atmosphere for family involvement in the community is quite special here," he says. "I come from a small Indiana farm town. I love that same 'small-town' feel this area provides. There are so many wonderful family-friendly things to do."
Kintzel is now the president of Buzzazz Business Solutions, a marketing and web design company in downtown Clearwater. His brother, Kurtis Kintzel, is the company CEO. They have 15 employees.
Besides business, family and church, Kintzel invests large amounts of time helping "local charity groups become more known, stable and profitable. I want to help other small business owners achieve their goals and dreams by providing easily implemented cutting-edge business solutions."
Kintzel's charitable work in Clearwater extends to such groups as the homeless housing organization, the Going Home Coalition, the Sunscreen Film Festival and Foundation for a Drug-Free World.
Kintzel is active with the Downtown Clearwater Merchants Association, helping to bring more businesses, tourists and residents downtown. He is also a member of the Chamber of Commerce and the Concerned Businessmen Association of Tampa Bay, a new nonprofit helping business owners to connect up to help local charities.