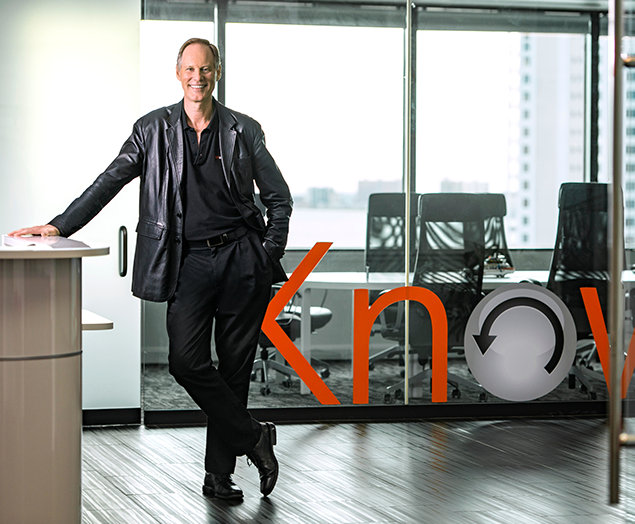 With a spate of business traffic filling his proverbial inbox, the Clearwater CEO is running out of space. With his 800 current employees soon to expand to 1,400, or maybe 1,800 if he signs up the U.S. Department of Defense, KnowBe4 headman Stu Sjouwerman needs room for them to work.
"I need a new building," he says, pointing across the city. "There's room."
A vibrant, homegrown, downtown Clearwater-based tech firm, KnowBe4 is quickly exploding out of its three floors of headquarter office space in the downtown Clearwater Tower building. Though KnowBe4 has offices in the United Kingdom, the Netherlands, Germany, South Africa, Brazil, Dubai and Singapore, most of its 800 employees actually live and work in Clearwater, where the company has been showcased in the Tampa Bay Times' annual Top Workplace awards contest, four years in a row based on employee surveys.
KnowBe4 takes on a unique role in the worldwide fight against crippling cyberattacks that prey on human—not hardware—failures.
This year, the Tampa Bay Business Journal ranked KnowBe4 second among the Fast 50—the area's top 50 fastest-growing companies. "We like it here. We're staying. We're expanding," promises Sjouwerman. KnowBe4 gained "unicorn" status as a startup worth a billion dollars just this summer.
Community philanthropist and downtown civic leader, Stu Sjouwerman serves on the Clearwater Downtown Development Board, as well as the executive board of the Clearwater Downtown Partnership. He and his wife regularly contribute to worthy causes. This past spring, the Sjouwermans donated $4 million to the Pinellas Humane Society for an air-conditioned facility to house pets looking for their "forever home."
"I'm creating high-paying, clean jobs for anyone who wants a career in cybersecurity, and that hopefully translates to a vibrant, thriving downtown!" says Sjouwerman.
"No man is an island. We are all in this together. America is a unique country with a fabulous constitution and still is the land of opportunity. We need to help each other live fulfilling lives, and the way to do that is to contribute and help build your local community."